Practice building strong reading comprehension skills with these fun and free printable fairy tale themed reading comprehension pages for your kids of multiple ages who are learning from being in the comfort of their own home or while learning in a classroom full of students.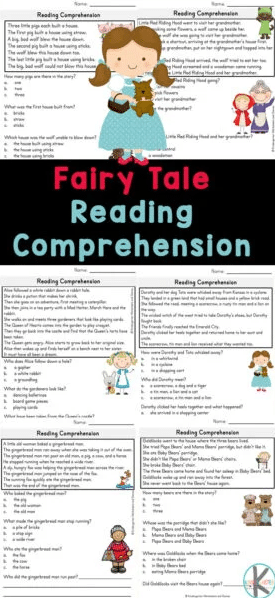 These free printable reading comprehension pages with a fun fairy tale theme are excellent for your students that are in preschool through first grade to really focus on building strong reading comprehension skills while they are young.
Reading comprehension is an important skill that you mostly build while you are young and in school. It's a skill that you end up using all your life and into adulthood too and ends up being important for a lot of things.
Some kids don't naturally have very good or strong reading comprehension skills and aren't encouraged to practice or know how to get better either. With helpful fun and free printable reading comprehension pages like these it makes learning so easy and enjoyable.
This free printable pack includes seven different classic fairy tale stories that most everyone is already familiar with. You and your children can go through the different fairy tale short stories that are given and practice building those reading comprehension skills and having fun while doing it at the same time.
Check out these links below for more free printable pages for your kids.
The following two tabs change content below.
Latest posts by Isa Fernandez (see all)