Do your kids love animals? Studying the real life cycle of an elephant with these fun free printable worksheets.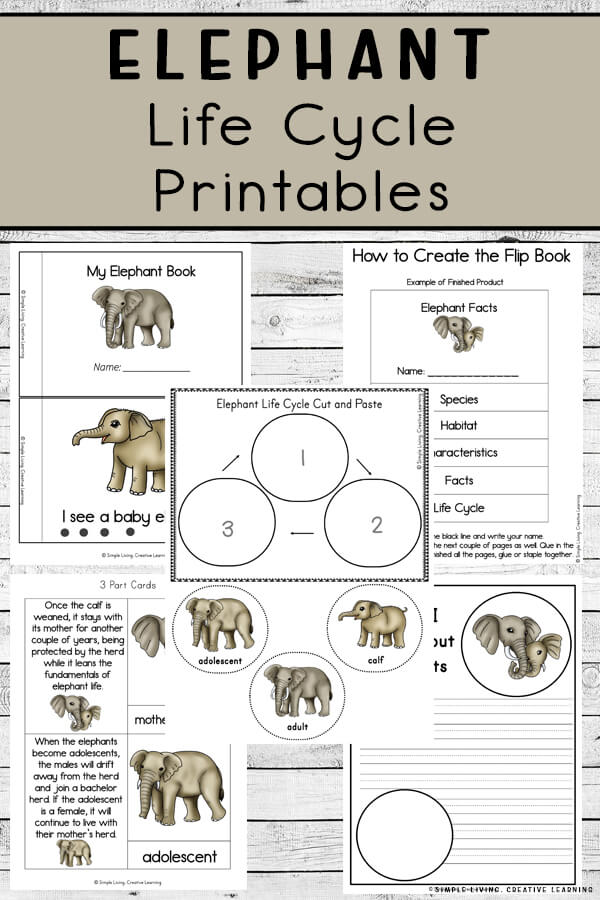 Have fun learning all about elephants and their life cycle. Animals are amazing creatures to look at and be in awe of. It's even more interesting after you learn all about them, how they're born, and how they grow up.
All that you will need for these low preparation activity worksheets are white paper, a printer, colored pencils of your choosing, scissors, lead pencils, and possibly a laminator if you have one to use.
These awesome life cycle printable activity worksheets come with alphabet cards, tracing letters practice, an I Spy game, counting puzzles and more.
In addition to learning about the life cycles of elephants, your students can practice regular math addition problems and practice handwriting with these elephant themed worksheets.
There is a colored and also a black and white version of these elephant life cycle worksheets for kids in case you don't want to print in color.
With all the many different activities and learning opportunities your kids will love these free printable elephant worksheets. You'll be happy knowing that while they are filling out these worksheets they are learning a bunch about elephants, as well as practicing their other skills and school subjects like math and language arts.
Check out these links below for more great free life cycle worksheets.
The following two tabs change content below.
Latest posts by Isa Fernandez (see all)