If you're looking for a preschool reading activity that highlights the season, this easy reader Thanksgiving book is perfect.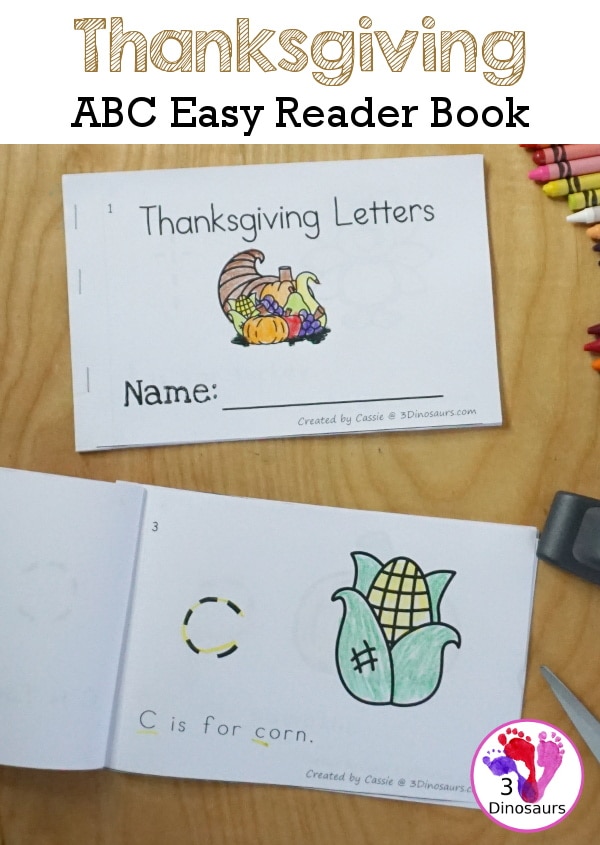 ABC reader books are helpful resources for beginning readers. They provide practice in identifying and tracing letters, and help children recall letter sounds using the associated pictures.
Children develop a sense of pride and ownership with their books as they trace letters and color the pictures. They can even help sort the pages, place them in order, and help hold them while you staple them together.
Themed books are fun, introducing readers to new words and pictures to color associated with that theme. This Thankgiving reader includes some fun new words to try, with pictures to help your child along.
This printable includes twelve half-pages when cut and arranged in order. You'll only need a few supplies, and it comes together quickly.
Have your child trace the letter, say the sound, and identify the picture. Invite them to talk about what they see, and give them time to color the picture on each page.
Find more easy reader ABC books for your new reader.
The following two tabs change content below.
Jeannette is a wife, mother and homeschooling mom. She has been mightily, saved by grace and is grateful for God's sovereignty throughout her life's journey. She has a Bachelor in English Education and her MBA. Jeannette is bi-lingual and currently lives in the Tongan Islands of the South Pacific. She posts daily freebies for homeschoolers!
Latest posts by Jeannette Tuionetoa (see all)