Take a look at these cute and awesome easter themed word searches to prep for the holiday!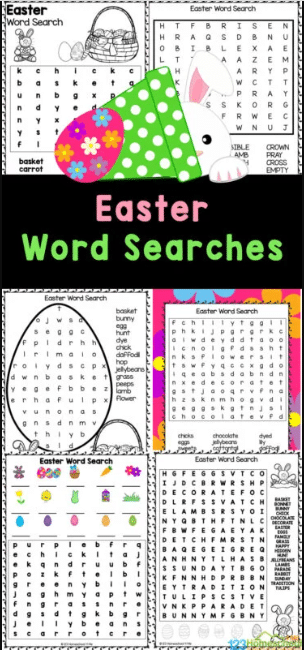 This awesome printable pack comes with a couple of different word searches for kids to enjoy. These fun word searches are easter themed and come with different shapes and items that represent the exciting holiday. This includes easter eggs and baskets, and bunnies as well.
Your kids will have fun solving these puzzles and finding all the words that they can on these awesome pages. This is a perfect exercise for kids learning more words and letters in the alphabet. They can strengthen their spelling skills and can even learn new words.
You can add this to any lesson about Easter or just include it in your reading or writing courses. It is perfect to implement in any school setting or even right at home at any homeschool. All that is needed is a printer to get these awesome pages.
Once kids are finished with these fun puzzles, you can continue the fun by having them practice number counting and count all the words they found on each page. You can also hand them colored pencils to color in some of the pages that have images on them.
Click these links below for more awesome word searches for your students.
The following two tabs change content below.
Latest posts by Isa Fernandez (see all)