Use these big, bigger, and biggest different sized free printable worksheets for your students to learn either at home or in a classroom full of students.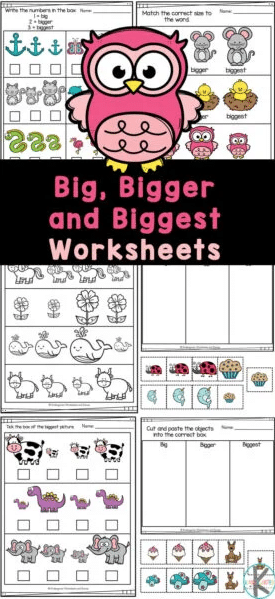 These free printable different sizes worksheets are great for your students of many ages to be able to enjoy using. Use these free printable worksheets to help your students learn and practice telling different sizes from smallest to largest.
These are the perfect low preparation printable activity learning worksheets for your students in preschool, kindergarten, and first grade. Add these pages to your study lesson plans at home, or they work great in a classroom setting full of students too.
Use these helpful free printable learning worksheets as apart of your math lesson plans or for understanding sequencing.
Make sure that your students read and follow the instructions that are given on the pages to complete the worksheets properly and get the most out of them. Have writing utensils ready in hand like led pencils, pens, or markers to use to complete these free printable learning worksheets.
Enjoy having fun while learning with the different cut and paste activities and coloring pictures. Draw pictures and match words to their correct sizes shown on the pages.
Check out these links below for more great free printable worksheets for kids.
CLICK HERE for hundreds of free homeschool printables
Be sure to follow the Free Homeschool Printables and Worksheets board on Pinterest!
The following two tabs change content below.
Latest posts by Isa Fernandez (see all)