A lot of students need help with learning how to convert their decimals into fractions. You can add these free printable helpful worksheets to your studies for extra help at home or in the classroom.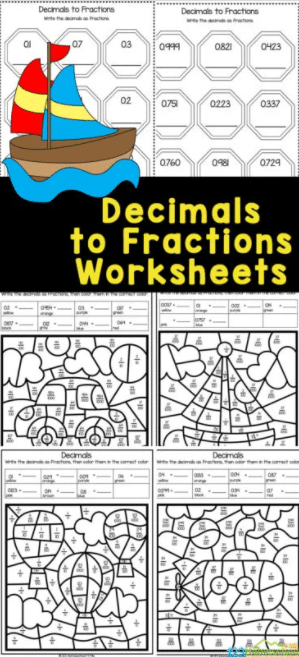 Make learning new math problems easy and less hard than it has to be. Children can have fun with these free and helpful decimals to fractions worksheets.
This is the perfect no preparation, free printable worksheet set for your second to fifth graders that might need a little extra help with their math studies. You can add these worksheets easily to whatever kind of math curriculum studies you have to use at home or in class.
This free printable worksheet set prints in black and white so if you want you can let your children color and decorate their math pages after solving all of the problems. Let your kids pick out their favorite colored crayons, markers, and colored pencils to color and decorate the free printable worksheets.
Learn how to easily convert decimals into fractions with these free printable and helpful math worksheets, perfect for your elementary aged students.
Kids can enjoy fun different objects on the pages. Your kids get to learn with hot air balloon pictures along with cars, trains, submarines, and more.
Check out these links below for more great free math printables.
CLICK HERE for hundreds of free homeschool printables
Be sure to follow the Free Homeschool Printables and Worksheets board on Pinterest!
The following two tabs change content below.
Latest posts by Isa Fernandez (see all)