There are so many fun ways to learn the days of the week. These days of the week activities have cut and paste pages and puzzles for practice!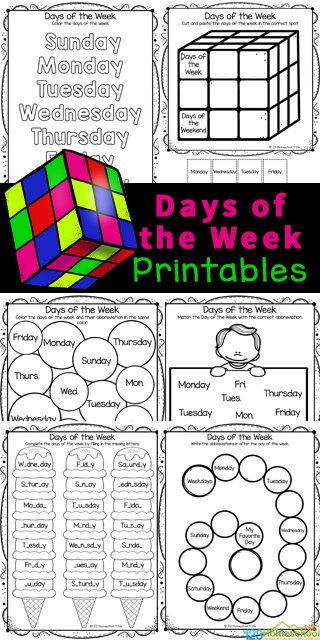 Teaching the days of the week to my kids was always fun. I tried to implement other things besides paper and pencil.
We had a Leapfrog device that sang the days of the week in a catchy song. To this day, they still sing that song!
Needless to say, it didn't take long for them to learn the days of the week in order.
These worksheets will add a little fun and variety to your lessons.
The first page is a written list of the days of the week.
The second and third pages are a cut and paste activity. Paste the days from page three to the spaces on page two.
The next two pages are just for coloring. Your child can take their time reading and coloring in the name of each day and its abbreviation.
Another cut and paste activity will help your child differentiate between weekdays and weekend days.
You'll also find tracing pages, missing vowel activities, and more abbreviation practice pages in this set.
Grab more days of the week printable worksheets below:
The following two tabs change content below.
Jeannette is a wife, mother and homeschooling mom. She has been mightily, saved by grace and is grateful for God's sovereignty throughout her life's journey. She has a Bachelor in English Education and her MBA. Jeannette is bi-lingual and currently lives in the Tongan Islands of the South Pacific. She posts daily freebies for homeschoolers!
Latest posts by Jeannette Tuionetoa (see all)