Puzzles are fun brain exercise games. Your kids are going to absolutely love these community helper themed puzzles that are totally free for you to print out and enjoy having to add to your school lesson plans or just to have at home.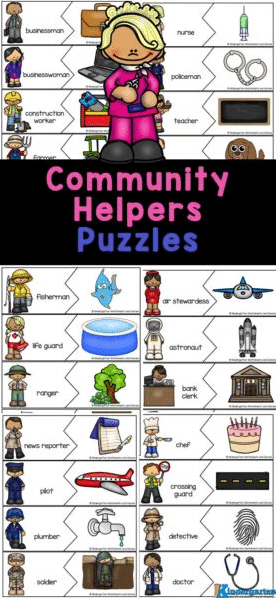 Keep your kids busy, entertained, and occupied with these excellent, easy to download and use, and free to print community helpers themed pack of puzzles that your kids can pick and choose from to enjoy doing.
Whether you have one kid or a classroom full amount of kids, these fun and free to print community helper puzzles are an excellent activity to have around for all occasions.
There is no age limit to figuring out and having fun doing puzzle activities. It's a great way to exercise your brain for problem solving. The community helpers theme helps kids appreciate those who work around them to make things in life easier with their hard work, at the same time brainstorming what they might like to become when they get older as an adult.
With this community helpers puzzle activity your kids will be prompted to match the worker to their correct matching item whether it's an astronaut to a rocket or something else for example.
Check out these links below for more free printable puzzles.
The following two tabs change content below.
Latest posts by Isa Fernandez (see all)