Have fun with these free to print learning activity pages for studying the life cycle of a black bear with your students teaching them at home or in a classroom.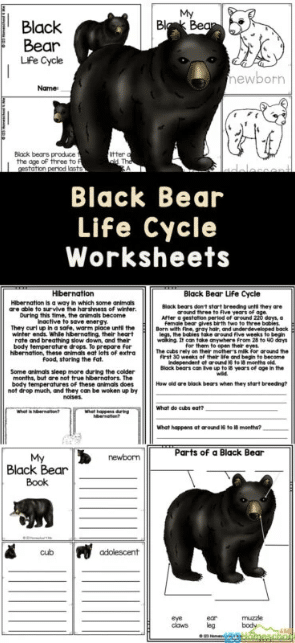 Read, take down notes, and study the life cycle of a black bear and more about the interesting animal with this fun and free to print pack of black bear worksheet pages that you can add to current study lesson plans for your kids in school this year.
These black bear life cycle worksheet pages work perfectly for adding to a current unit study on animal life cycles in school or just to have for sharing with your curious students who like learning more about animals in nature.
Learn all about the parts of a black bear, read fun facts, and take down notes for what facts you learn that interest you the most.
At the end of completing these learning activity pages about black bears your students should be able to tell you what baby cubs eat, at what age do they start breading, and more about hibernation, along with other fun facts about black bears.
In addition to learning all of these important black bear fun facts your kids also get to have fun with coloring page opportunities where they get to exercise their creativity and express themselves using their favorite colored crayons, markers, or colored pencils of their choosing.
Check out these links below for more free printable life cycle worksheet pages.
The following two tabs change content below.
Latest posts by Isa Fernandez (see all)