Study the interesting life cycle of deer with this fun and free to print pack of deer life cycle worksheet pages perfect for students in preschool through elementary grades.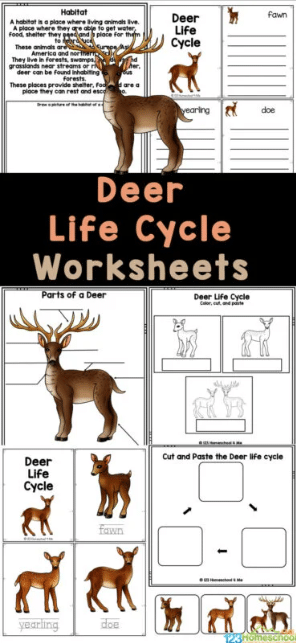 Have fun labeling parts of a deer, doing cut and paste activities, tracing practice, and much more with this deer life cycle themed pack of learning activity pages that's perfect for your kids to have fun with while still being able to learn new things at the same time.
These deer life cycle worksheets are great for adding to current study lesson plans in school this year, or just to have around for fun and keeping your kids busy, entertained, and occupied.
Learn a bunch of cool new interesting facts about deer and their unique life styles with these wonderful, fun, and free to print deer life cycle learning activity worksheets that's perfect for your kids who love animals.
Get out your favorite colored crayons, markers, colored pencils, or whatever else it is that you have and prefer using to color and decorate these awesome deer life cycle themed learning activity worksheets whether you're choosing to do them from the comfort of your own home, or in a classroom somewhere.
Have fun getting to enjoy these deer life cycle themed learning activity worksheet pages to use for teaching your kids of multiple grade levels who love animals more about deer.
Check out these links below for more free printable life cycle worksheet pages.
The following two tabs change content below.
Latest posts by Isa Fernandez (see all)