Enjoy this fun animal word search for your kids to build their vocabulary and learn more animals while having a great time.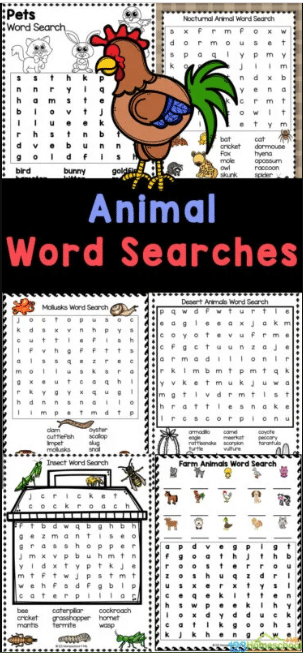 This fun word search focuses on the different animals that kids can enjoy learning about. Each animal word search has a different design to keep things fresh and give kids a list of animals that they can practice and learn.
One of the pages have a list of animals and a picture of each animal. This will be a great way to start the activity so that the kids can have an image of the animal to remember. Word searches are a great way to have kids memorize words and what they mean. It also makes them a lot better at letter recognition as well.
Kids will definitely have a great time while finding these words. You can print this free printable animal word search pack and choose to give each kid one page or all of them in order for them to fully master the animal words.
This animal word search printable pack is perfect for any class room setting or even any home school setting as well. All you need is a printer and this pack is yours using the link down below.
Click these links for more word search printable packs.
The following two tabs change content below.
Latest posts by Isa Fernandez (see all)