Practice putting things in alphabetical order with these fun and free to print alphabetical order worksheets and add them to your current school lesson plans this year.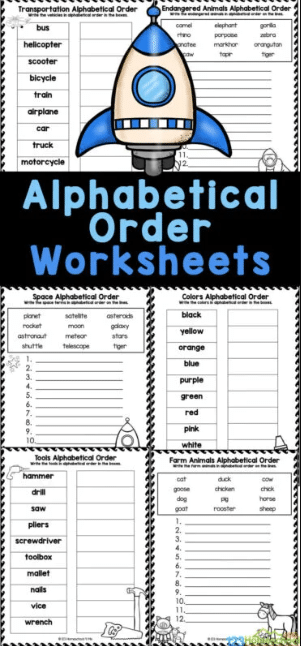 These are excellent worksheets that are easy to download and use that are also free to print that you can easily add to your current study lesson plans in school this year for kids of multiple different ages and grade levels.
There are tons of different types of free to print alphabetical order worksheets that you can pick and choose from to use first or to include at all in your school plans. The worksheets all print out in black and white which helps with printing costs and also gives your kids the place to color, create, and decorate these awesome alphabetical order worksheets after filling them out and completing them.
Young ages from preschool all the way through elementary grades will find these worksheets helpful and fun to use with ease and all at no cost to you! These are perfect for using at home or in a larger classroom in a school full of students who are all learning at the same time.
Check out these links below for more free printable alphabet worksheets.
The following two tabs change content below.
Latest posts by Isa Fernandez (see all)