Enjoy this cute and adorable ABC coloring page with a spring theme!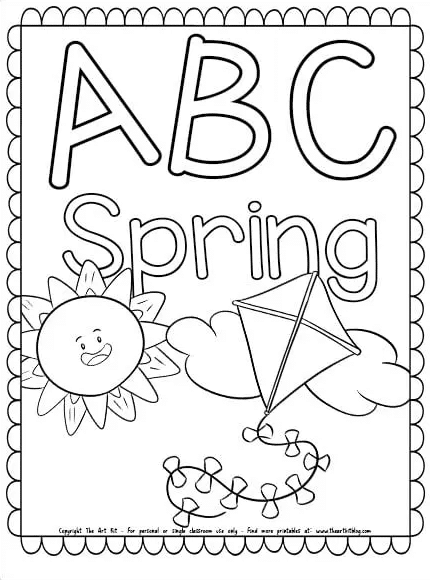 This cute coloring page is a spring theme ABC page perfect for the new spring season this year. Kids can enjoy coloring them in and can practice learning the word Spring. With them coloring the word in, they can take the time to practice each letter in the word, and also practice the word itself.
The image also comes with a sun and a cloud. It also come with a kite on it. They can also learn each of these things and have a perfect understanding of the spring season. This image perfectly shows how spring is sometimes sunny and sometimes cloudy or rainy. The kite also shows how it can be a bit windy as well.
You can use this page in any reading or writing lesson plan. They can learn a ton of words using this one page and will have fun doing it. Kids can also compare how they used their imaginations to decide how they wanted the page to look and what colors they used.
All that you need is a printer and the link down below to gain access to these awesome coloring pages and have them ready for your kids to enjoy. It is perfect for any home setting or classroom.
Check out these links for more coloring pages to add in your lessons.
The following two tabs change content below.
Latest posts by Isa Fernandez (see all)