Treat your kids to these awesome coloring pages with cats in space! Kids can imagine what its like to be in outer space with their furry friends.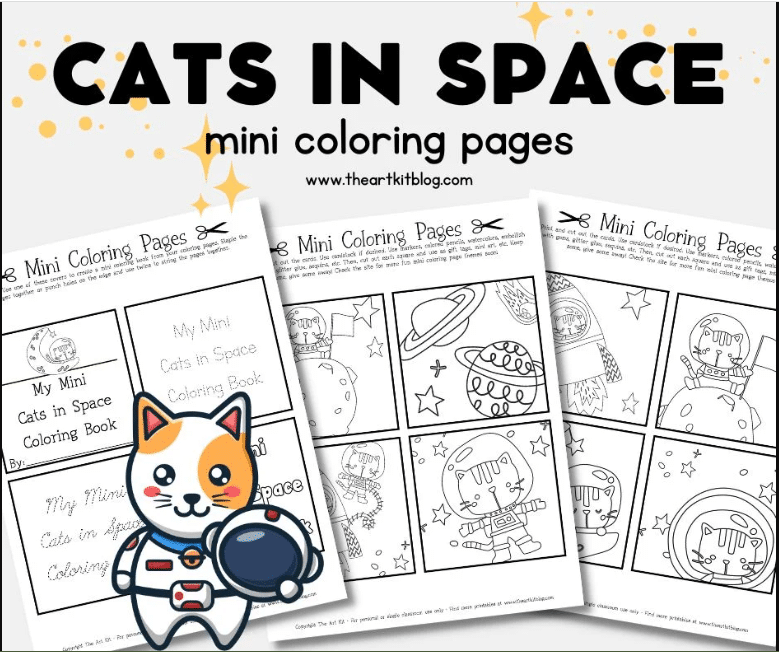 Enjoy these cute furry cats taking a trip into space with these different mini coloring pages for your children to join the adventure. Kids who have a big imagination or a passion for astronomy can have their very own space adventure with some of their favorite pets.
There are three mini coloring pages with this printable pack. Each one has a space theme and feature cats having a great time. One pages comes with a tracing section for kids to practice their handwriting and spelling as well.
This writing section is used for the cover of their very own mini coloring book. You can take it upon yourself to cut out these squares and staple them together or involve the children in creating their very own coloring book.
They can even choose how to order these pages and each have a unique book to call their own. With the link below, you can gain access to the download link for these cats in space coloring pages and create a fun time with students in school or right at home.
Check out these links for more coloring pages.
The following two tabs change content below.
Latest posts by Isa Fernandez (see all)