Enjoy this free printable pack of winter themed literacy activity worksheets for your kids to do as apart of their school lesson plans this year.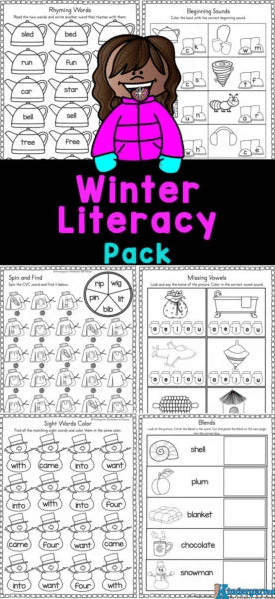 This fun and free printable pack of winter themed literacy learning activity pages are going to be great for practice and review purposes for your kindergartners through early elementary grades.
Whether you teach your own kids from being inside the comfort of your own home, or perhaps you're in charge of a larger classroom full of students who are all learning at the same time in a school, these wonderful and free printable winter literacy worksheet pages are the perfect thing for any occasion.
There are over twenty-five pages with fun winter themes included with this free printable pack of literacy learning practice activity worksheets that go over tracing, reviewing CVC words, rhyming, counting syllables, identifying missing vowels, and so much more for your students to be able to have fun while learning at the same time.
All of these pages print out in black and white which makes it fun for your kids to be able to color and decorate the pages however they see fit with their most favorite colored crayons, markers, colored pencils, or whatever else they like using.
Check out these links below for more free printable winter themed activity pages.
The following two tabs change content below.
Latest posts by Isa Fernandez (see all)