What Homeschool Moms REALLY Want For Christmas
It's that time of year. Time to get ready for Christmas. Homeschool moms are making angel costumes, dusting off the Baby Jesus and setting up the nativity. We are hanging our stockings, stirring up some egg nog, and singing "Joy to the World." And like everyone else, we are making our Christmas list too.
I, myself, have been both a bit naughty and a bit nice this year — after all I am a homeschool mom in need of grace. But I am making my list anyway with hope that St. Nicholas will soon be here. Here are a few things that are on it. I'm thinking they might be on yours as well.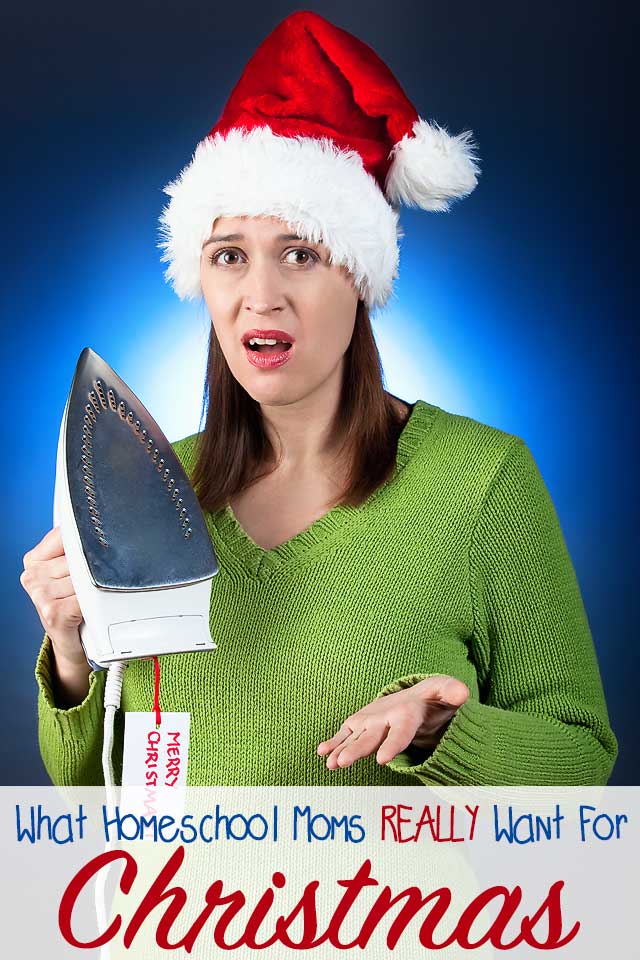 This is a guest post from Pam,  author of Plan Your Year: Homeschool Planning for Purpose and Peace
Peace in the Living Room
Forget about Peace on Earth (ok, don't forget about it, because it would be wonderful) but almost as wonderful would be a bit of peace in my own home. She looked at me. He won't stop copying me. Mom! Make him get off my head! Five minutes, just five minutes of quiet would be oh so nice.
Library Fine Forgiveness
I love going to the library. Is it too much to ask to get a little love from my local library in return? Do they know how hard it is to keep up with those 87 books we checked out during three different trips on five different library cards? All I want for Christmas is my fines forgiven. Its not too much to ask in the season of giving if you ask me.
Ink Cartridge and Paper
Admit it. The semester's drawing to a close and you didn't use half the things you printed this summer. On top of that you've discovered five new resources you want to use in the new year and need to make some copies.
Yet your printer cartridge is running low and the recycle bin only has a few partial scraps left — the kids have used all the paper making Christmas snowflake decorations (the cutout pieces from these still litter the floor under your school room table as evidence). A big ole case of paper a new printer cartridge or two would be great under the Christmas tree right about now.
Another Hour in the Day
Or two. Or three. There just never seems to be enough time. If only I didn't have to sleep. I can get my mornings down to a science, but still feel the need for just a few more hours to get to everything else done — without it being undone right behind me.
One Hundred Freshly Sharpened Ticonderoga Pencils with Invisible Table Tethers and Indestructible Erasers
Come on. Does this really need explanation?
Five Minutes in the Bathroom… Alone
No pudgy little toddler hands reaching under the door, no one yelling out their math problem through the keyhole, no screeches of pain from the next room. Just me, a queen on her throne, for a few moments in peace. That is all.
A Friend to Lend an Ear
When the days have a rough patch or two. When the days are one big rough patch. I just want someone to talk to who understands. She is my shoulder to cry on. The encourager who lifts me up. The Ethel to my Lucy. Homeschool mama friend, I love you.
Bubble Bath and Chocolate
Large quantities of each please. Because I work hard. Because I spend all my energy ensuring my kids will not be burdens on society who pick their noses, can't name the state New York City is located in, or God forbid, lives in my basement when they are thirty. I work hard loving my kids. And I deserve a little Calgon and Godiva.
And so do you, homeschool mom, so do you. Merry Christmas!
*Article originally published November, 2015.
Pam is the author of Plan Your Year: Homeschool Planning for Purpose and Peace. She lives in the deep south with her husband and three kids, where she homeschools (of course) and is the go-to lady for great curriculum recommendations or a just a pep talk on a rough day.

She puts her penchant for finding awesome resources and her gift for breaking big tasks into small manageable steps to work at edsnapshots.com, a helpful blog for homeschooling moms.
Do you need more homeschool encouragement, help, and ideas? Click here for a TON of Homeschool Inspiration!
The following two tabs change content below.
We are here to help families afford the homeschool life by providing the BEST homeschool freebies, deals, resources we can find & encouragement as we walk this journey together!
Latest posts by Free Homeschool Deals (see all)