Check out these wonderful, fun, and free printable watermelon themed counting mats that you can easily give to your younger children to be able to do as a fun learning activity this summer.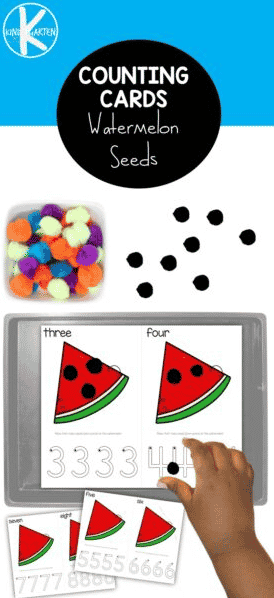 Practice learning how to count with these awesome, easy, free printable watermelon themed counting mats. These mats are super helpful for your preschoolers and kindergartners who are practicing counting their numbers. These mats include counting from one to twelve.
The fun watermelon theme makes it even better to use as a easy and fun learning exercise for the summer time even while you're taking a break from doing school work you can still practice using your brain so that it's easier to get back to doing school in the fall.
Your kids will love counting numbers by adding seeds to the watermelons. For better durability and so that these paper activities last longer, it's recommended to laminate the pieces and pages after printing them out for your kids to be able to get multiple uses out of it.
You can use this fun and free printable watermelon themed counting learning activity now or save it to add to your current math study lessons for getting your students schoolwork planned out for the fall time and back to school.
Check out these links down below for more free printable counting learning activities.
CLICK HERE for hundreds of free homeschool printables
Be sure to follow the Free Homeschool Printables and Worksheets board on Pinterest!
The following two tabs change content below.
Latest posts by Isa Fernandez (see all)