Have fun while learning this summer with this free to print and easy to use surf themed verb and noun sorting learning activity for kids to be able to enjoy in early elementary grades.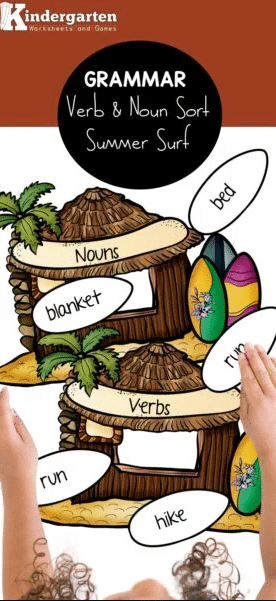 Fun and free to print learning activity pages such as this pack are great to have and utilize during summer break from school to give kids something easy and fun to be able to enjoy while taking a break from school but still getting to exercise their brains so it's not as hard for them when they have to go back to school in the fall time.
Giving kids simple review pages such as these are great for memory retention while taking summer break from school so that way they can't forget all that they've learned. It's also great to add to summer study lesson plans if you're doing school through the whole year without taking a break it's fun to give them a summer surf theme to their worksheet pages.
Kids will be prompted to sort through nouns and verbs which can help them differentiate between the two and show you the teacher where they might be excelling or lacking and need some extra help in certain areas.
Check out these links below for more free printable noun and verb learning pages.
The following two tabs change content below.
Latest posts by Isa Fernandez (see all)