This is a guest post series from Danielle of Roadschooling with The Frugal Navy Wife.  
Daniele and her family homeschool while on the road in their RV – also known as roadschooling!  Come follow along with Daniele as she shares her wisdom in this Roadschooling series here on FHD!  Danielle will teach us tips for buying an RV, organizing an RV, ways to save at campgrounds, her thoughts on RV insurance and memberships, and tons more.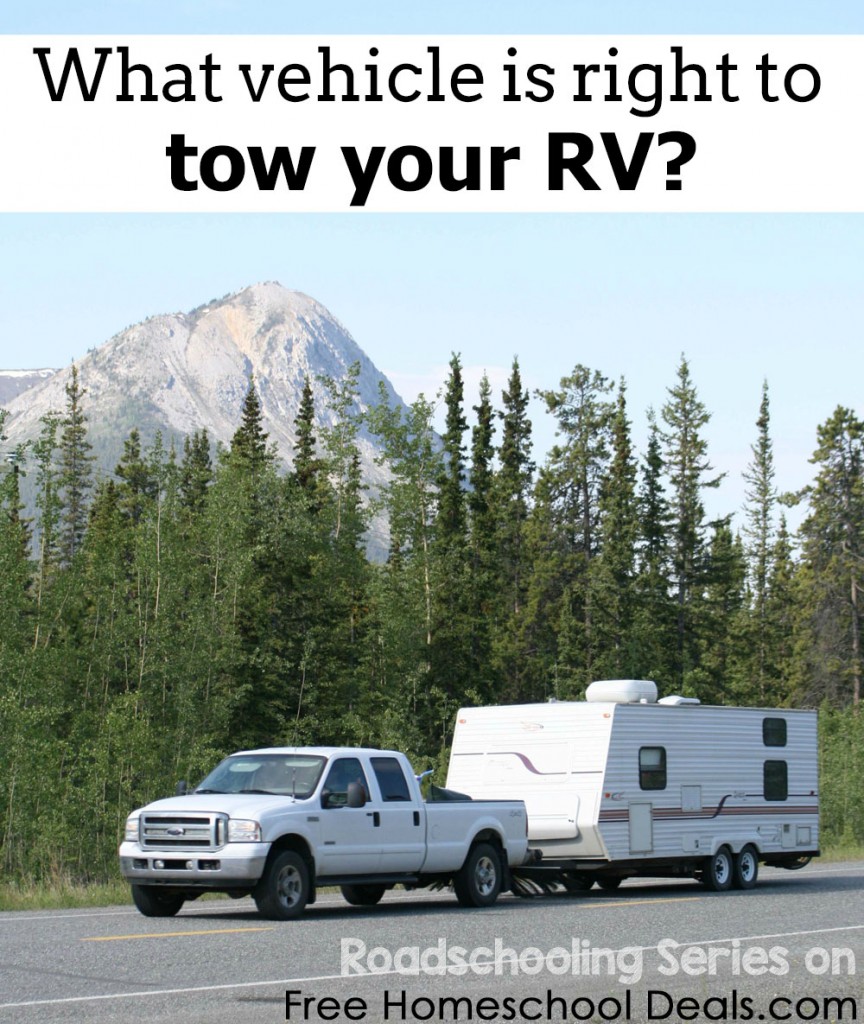 What Vehicle is Right to Tow Your RV?
So you have chosen the perfect RV for your family, and now you need a vehicle to tow it! This seems simple right?
Grab a truck and go, right?
Not really!
One Vehicle or two?
How many people will be traveling with you?  Do you all want to be in one vehicle or caravan with 2?
Since we are traveling full time, we wanted to be in one car.   However, we are a family of 6, and we knew a pickup truck would be tight.  Plus, we didn't like the idea of our oldest being in the front seat.
So we decided on the Ford Excursion. Ours is a 2003 and it tows 11,000 pounds so we had to find an RV that was under 11,000 pounds total weight and we did!
How big an RV do you need or want?
How big of an RV are you looking to tow?
If your RV weighs 15,000 pounds you need to make sure your vehicle tows at least 16,000 or more. The more you can be under your vehicle's tow weight, the better!
How else will you use the vehicle?
If the vehicle is ONLY for pulling the RV around and it will sit parked the rest of the time, you don't want to spend a ton of money on it. I suggest finding a cheap older vehicle.
If you, like us, will be using it as your everyday vehicle as well, you need to make sure it fits your family and your everyday needs.
Towing your car behind your RV?
What if you are towing your car behind your RV?  This type of RV is considered to be a motorhome.
You need to make sure the car fits your family and your RV has the tow power to tow your vehicle. The bigger the engine of your tow vehicle, the more it will weigh.
Gas or Diesel?
When looking for a towing vehicle, this is something you must consider.
We went with diesel, as it is better for towing heavier loads on a long term basis.  This was necessary for us since we will be living in the RV and towing full time.
There is a reason semi-trucks run on diesel!
Automatic or Manual?
This one was pretty simple for us. I don't drive manual (or stick shift) so if my husband ever wanted me to help drive then it had to be an automatic engine. Most will go with an automatic, but manual is still an option.
What factors did you use when buying your RV?
More RV Articles about Roadschooling
You might also be interested in these other posts about Roadschooling:
→ How to Find the Perfect RV for Your Family
→ Where You Can Camp For Free in the USA with an RV
→ What Vehicle is Right to Tow Your RV? – this post!
→ 5 Ways to Save Money at Campgrounds

Follow the Affording the Homeschool Life Pinterest board!
Click here for a bunch of additional articles to help you in affording the homeschool life!
Danielle is a mom of 4, Former Navy Wife, Homeschooling mom, frugalista and blogger at The Frugal Navy Wife. She and her family of 6 are currently setting out on their lifelong dream to travel via RV around the United States. They are documenting their journey on Roadschooling with The Frugal Navy Wife.
The following two tabs change content below.
We are here to help families afford the homeschool life by providing the BEST homeschool freebies, deals, resources we can find & encouragement as we walk this journey together!
Latest posts by Free Homeschool Deals (see all)