You can use this totally awesome free printable types of clouds mini book for making learning about clouds easy and fun for your elementary aged students.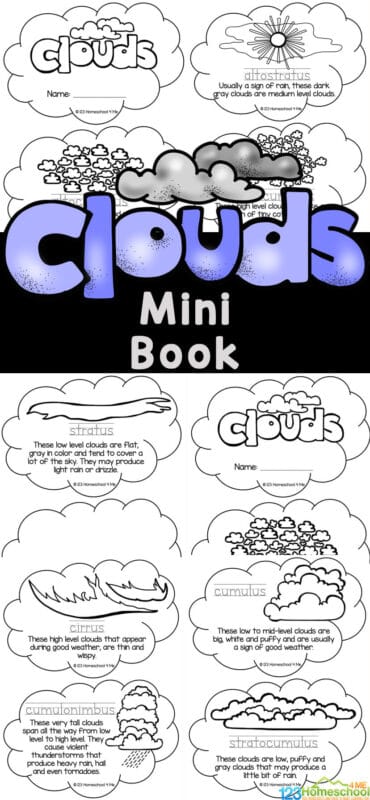 Whether you teach your students from being in the comfort of your own home, or you have a classroom full of students who are all learning together, this fun and free printable types of clouds mini book pages are wonderful for your children to look forward to doing.
This is the perfect fun and free printable types of clouds add on to consider using along with your current science study lesson plans that you may already have for your students to use for extra learning and review practice this year.
This free printable pack of types of clouds mini book pages include ten pages of different types of clouds and their names for your kids to be able to learn and color. This pack of worksheets is geared more towards elementary students in preschool through fourth grade but it works for students of multiple grades.
After learning about all of the different types and names of the clouds in the mini book pages your children get to pick out their favorite colored crayons, markers, and colored pencils to use to color and decorate the types of clouds mini book pages.
Check out these links below for more free printable science pages.
CLICK HERE for hundreds of free homeschool printables
Be sure to follow the Free Homeschool Printables and Worksheets board on Pinterest!
The following two tabs change content below.
Latest posts by Isa Fernandez (see all)