Use this fun, easy, and free to print Theodore Roosevelt unit study to add to your current American history study lesson plans for elementary students this year.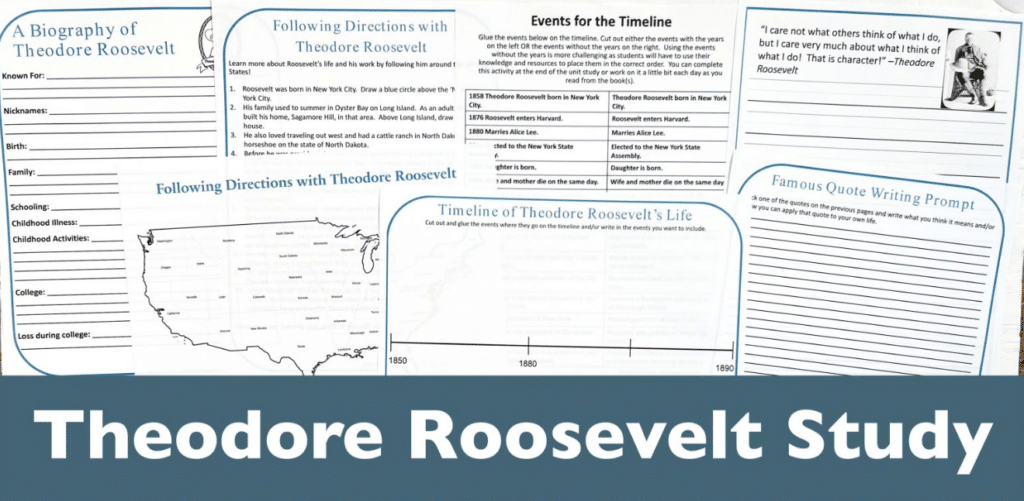 Use this fun and free to print unit study to learn a bunch of fun facts about Theodore Roosevelt the 26th president of the United States of America. This is an excellent addition to be able to have apart of your collection for learning in school this year.
These free to print Theodore Roosevelt unit study pages include a page for your children to do research and fill out his biography, a related crossword puzzle, a map of the United States of America and so much more to make learning fun and engaging for your students.
This is the perfect American history unit study for students in elementary grades for multiple ages to be able to enjoy doing together or if they're studying by themselves.
Your students will love these notebooking pages, timeline activity, and directions to learn about different places related to Theodore Roosevelt.
This link below also includes a ton of different reading books for your elementary students to use to learn even more about Theodore Roosevelt too!
Check out these links below for more free printable history links.
The following two tabs change content below.
Latest posts by Isa Fernandez (see all)