This post contains my referral link which helps support the work of this site. Here's my full disclosure policy.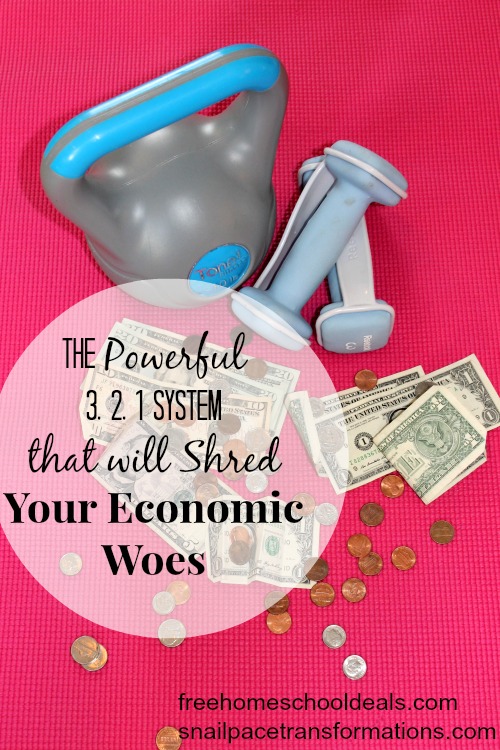 I love doing Jillian's 30 day shred which includes a combo of 3 minutes of strength 2 minutes of cardio followed by 1 minute of ab work. Jillian claims this is the best way to burn fat and tone muscles. It is a tough workout and trust me after you stay with it constantly week after week for a month you will start to see the results she is talking about.
With her voice stuck in my head one day I thought you know there is a powerful 3, 2, 1 system for finances too. The combo is tough, but when you stick to it and work all three steps together over time you will start to see an improvement in your finances.
So what is the combo? Saving, earning and time management. Work those three things together and you will see the results you want, whether they be less debt, more savings or another financial goal you wish to achieve.
 So in 3, 2, 1 style here is how to get started in becoming financially fit.
Three Money Saving Tips
Saving money for most families is easier than increasing income. A good chunk of the bills we can control are found in the areas of  groceries, clothing, and entertainment
 1.Saving Money On Groceries
A. Keep a price book : A price book will help you cut the cost of groceries even when you don't live in double coupon land.
B. Make things go farther: Use foaming soap dispensers for more than just hand soap. Make a seven day menu but only grocery shop every 8 days forcing you to be creative one day a week (or make it for 6 days and shop every 7 if you must go shopping on the same day each week).
C. Watch for meat markdowns: Meat is often the most expensive part of the modern day diet. To reduce costs buy it on sale as well as marked down and freeze it in easy to use meal portions. Use less of it by making stews, and casseroles. Have a vegetarian meal at least once a week.
2. Clothing
A. Shop yard sales: Shopping yard  sales is a great way to save money on clothing, especially for the 5 and under crowd . You can find clothing for older children too, but it is a bit more hit and miss, at least in my experience.
B. Shop clearance racks: Clearance racks are a great way to save money on clothes for all ages and sizes. By using a few tricks I can deepen the discount of clearance rack clothes by an additional 10 to 20 percent which often makes them cheaper than consignment store prices.
C. Shop Thrift Stores: I love Goodwill for clothing, and even at Goodwill you can reduce the prices  by following a few tips. 
3. Entertainment
1. Dump cable and use an antenna and/or Netflix instead.
2. Watch for free Redbox codes for DVD rentals or utilize your Libraries collection.
3. Get creative when it comes to date night and think beyond the classic dinner and a movie.
 Two Earning Money Ideas
Increasing your income does not have to be hard here are two simple things you can do at home in your down time.
1. Sell what you own and don't use : You don't have to spend hours working on a yard sale here are 10 ways to get rid of your stuff for cash.
 2. Do a bit of online work : You can earn enough money to pay for Christmas just by getting very disciplined in making full use of your Swagbucks account.
1 Time Management Tip
You'll noticed that I mentioned "down time" in the earning money section and I am sure some of you went "what down time?" That is when the most powerful time management tip I can give you comes into play.
 Perform a time audit.
For a whole 2 weeks carry a notepad and a pad of paper with you and track how you spend your day.  How long did it take to shower and get dress? Write it down. How long were you on Facebook? Write it down. Trust me this will be eye opening and by the end of the practice you will have a good idea where you down time is and how you could be using it more effectively.
By using this 3,2,1 system faithfully, over time you will start seeing the results you want in your finances.
Victoria writes at Snail Pace Transformations with the mission of helping moms find the time and money they need to pursue their passions while still maintaining balance in their lives. You can also find her on Facebook.
The following two tabs change content below.
We are here to help families afford the homeschool life by providing the BEST homeschool freebies, deals, resources we can find & encouragement as we walk this journey together!
Latest posts by Free Homeschool Deals (see all)