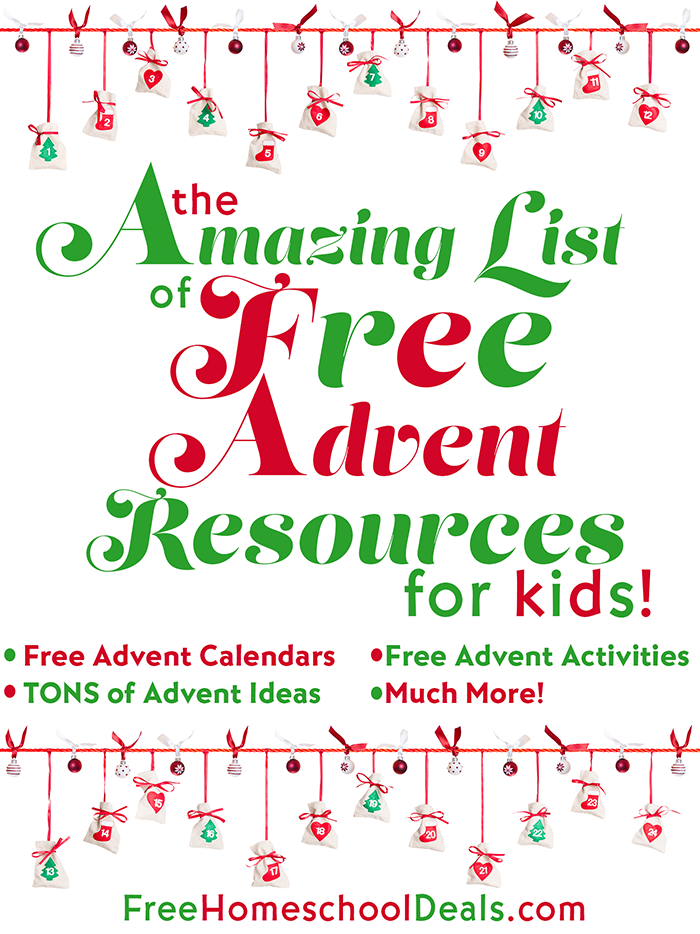 For 2019, the Advent season is in full swing, however, I know lots of homeschool moms are still scouring the internet for homeschool freebies to round out their Advent activities.
In The AMAZING LIST of FREE ADVENT RESOURCES for KIDS, you'll find Free Advent Calendars, Free Advent Activities, plus TONS of Advent Ideas and much more!
This post contains my referral link which helps support the work of this site. Here's my full disclosure policy.
Truth in the Tinsel
Truth in the Tinsel is a wildly popular Advent experience for little hands. Head over to Truth in the Tinsel to snag a copy for only $9.99!
"Spend December impressing God's Word on your kids' heart! You'll get 24 days of Scripture reading, ornament crafts, talking points, and extension activities, plus fun printables and templates!
This is the perfect book for kids of any age – from preschool to elementary!"

Free Advent Calendars
Free Advent Activities for Kids
It's all about family outings, crafts and giving to others with these Advent activities from KC Edventures.
Hip Homeschool Moms has an awesome list of 25 Advent activities for spending time together as a family!
You'll find over 35 ideas for Advent activities and experiences over at Mess For Less.
Modern Parents Messy Kids helps you fill your Advent with this list of 24 fun activities.
You'll find tons of interactive Advent activities from Sun Hats and Wellie Boots.
A House Full Of Sunshine has an awesome list of 60 activities for your Advent.
Have fun with these daily family activities for your Advent from Frugal Family Times.
Advent calendar activity cards focus on fun, family, and kindness from Mama Papa Bubba Blog.
Bamm Boo has great ideas using jars for your Advent activities.
From fun at home to movies, Adriel Booker offers 150+ activities for your Advent!
Frugal Living NW has a great list of Advent activities ranging from gingerbread houses to a "Red & Green" themed meal.
These family-related Advent activities from Talk Nerdy To Me are all about giving, sharing, learning, and experiencing.
Keep Calm Get Organised has a "12 days of Christmas" Advent activity list for the whole family!
Trina Holden has some fun and simple Advent activities just for kids.
Crafts On Sea has 40+ fun and festive Advent calendar activities for kids.
The Purposeful Mom shares her Advent banner that displays scripture and activity suggestions.
This is the ultimate Advent activity list from The Mad House.
This list of Advent activities from Boxy Colonial is geared specifically for 8-12-year-olds.
A Life Surrendered has a great list of Christ-honoring, giving, focused Advent activities.
Christianity Cove has 21 Advent activities to keep your children focused on the true meaning of Christmas.
Sun Hats And Wellie Boots has 10 Advent activities for young children.
I love this list of fun & festive Advent activities from Teach Mama.
From salt dough ornaments to a snowman lunch, Modern Parents Messy Kids has an awesome list of Advent activities the whole family with love!
TONS of Creative Advent Ideas
Extra Advent Goodies
The following two tabs change content below.
Keri
Keri is a former elementary and middle school teacher who's worked overseas for 4 years. She loves to write and so decided to pursue her writing dream!