This free printable Thanksgiving themed tic tac toe game is great for kids of all ages to be able to play and have fun with during this holiday season!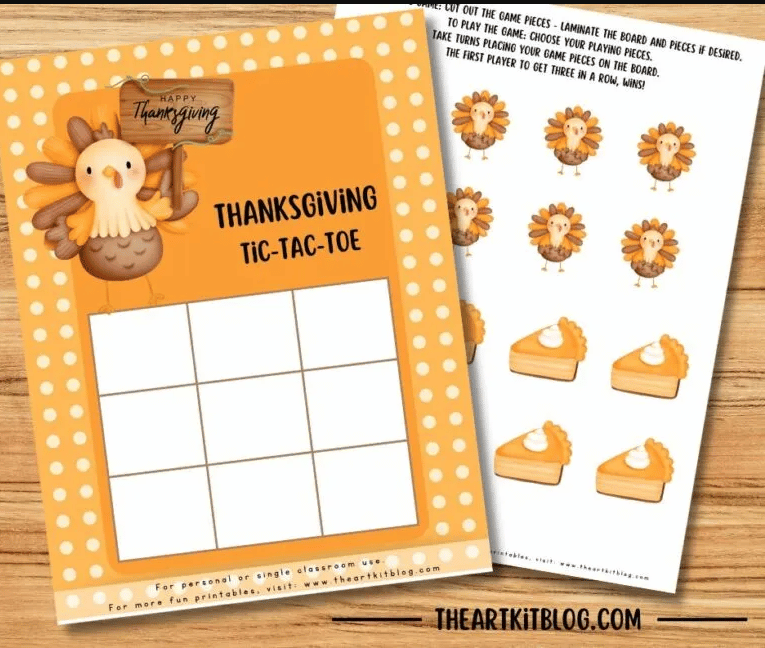 Tic tac toe is a great game because almost everyone already knows how to play it, and if not it's super easy to learn how to play. It's a game perfect for the whole family to be able to enjoy doing together.
Easily download and print out this very nice Thanksgiving themed tic tac toe game and you can have it on your kid's table this Thanksgiving holiday coming up to keep the kids busy, entertained, and occupied together while the adults are busy getting the food ready for the big dinner.
This super cute Thanksgiving themed tic tac toe game includes moving pieces that look like turkeys and pieces of pumpkin pie instead of your traditional X's and O's moving pieces. On the game board piece it says Happy Thanksgiving.
If you have the ability to laminate the game board and pieces it will help with better durability for the game to last longer for multiple repeated uses and to take with you wherever you'd like to be able to take it.
Check out these links below for more free printable Thanksgiving activities.
The following two tabs change content below.
Latest posts by Isa Fernandez (see all)