With this helpful free printable solar system worksheet set for your kids, they will get to learn all about the very interesting solar system that we belong to, live in, and how it works every day around us.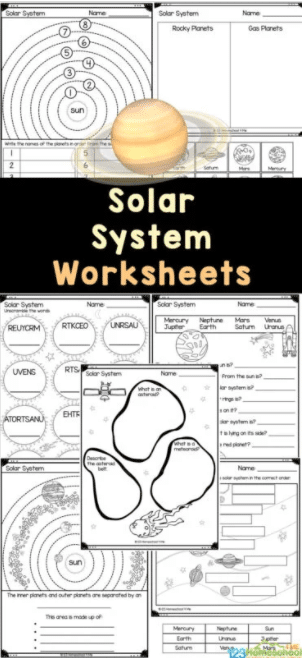 These awesome free printable solar system worksheets for kids makes learning easy and fun for your students who are learning at home or instead possibly studying in class.
You can easily add these free printable solar system worksheets to any of your already planned out student's science lesson study plans, they fit along with any science curriculum for kids.
These fun and free printable solar system worksheets for kids are perfect for your students who are in kindergarten through fifth grade. Since the worksheets work so well for a range of aged students, it helps using them in a homeschool co-op or another setting with a wide range age of kids so that they can do the same activities together without anyone having to feel left out.
There are tons of different types of fun and free printable activities to go along with this teaching science lesson for your kids to hopefully get the most out of learning. It helps when kids get to have fun while learning and they are occupied or engaged so that they retain more of what it is that they are learning.
Check out these links below for more free printable science worksheets.
CLICK HERE for hundreds of free homeschool printables
Be sure to follow the Free Homeschool Printables and Worksheets board on Pinterest!
The following two tabs change content below.
Latest posts by Isa Fernandez (see all)