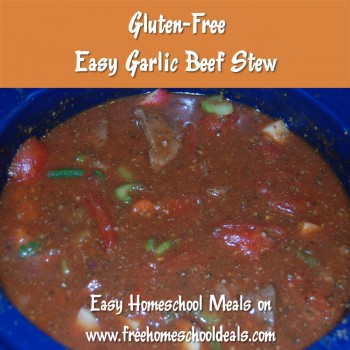 Hello Free Homeschool Deals readers!! I'm so excited to be a part of this new and exciting team. I can't wait to share some of our favorite and easy meals with you all. We are a newly gluten-free house, so most of the recipes I share on here will be gluten-free or easily adaptable to gluten-free.
With November in full swing, colder weather is on its way (if it's not already arrived in your area). And while, the slow cooker is one of my favorite summer-time appliances, I love to use it in the winter too! It's such a handy little thing, especially on those busy days with schooling, errands, doctor's appointments, field trips or just when you want a break from standing over the stove!!
Growing up, I remember going to my grandparent's house many times for Papa's Beef stew. It has long since been a fall/winter favorite of mine. I have never been able to make it quite like Papa, but this recipe gives a different twist with just as much flavor. This is one of my new favorite stews.
Easy Gluten-Free Garlic Beef Stew
Slow Cooker Meal: Easy Gluten-Free Garlic Beef Stew
Ingredients
1½ - 2 lbs stew meat
1 yellow onion, diced
4-6 carrots, diced
4-6 stalks of celery, diced
4-5 small-medium red potatoes, diced
½ bag of frozen green beans
6-12 mashed cloves of garlic or equivalent of jarred minced garlic
Large can of stewed tomatoes
palm full, ground marjoram
sea salt
black pepper
1 small can tomato paste
splash of chicken broth
Instructions
Sear meat. Do not cook completely.
Dice veggies and put in slow cooker.
Pour stewed tomatoes on top of diced veggies.
Add marjoram and garlic. It's a lot of garlic but it mellows from the long cooking
time and your house will smell amazing!
Using tongs, place meat on top of veggies and spices. Do not drain the pan.
Add tomato paste to the pan of juices. Combine thoroughly.
Pour over meat and veggies.
Add a splash of chicken broth and mix just enough to allow juices to flow to the
bottom.
Cook all day on low. DO NOT cook on high, it will make the meat too tough.
Serve HOT!!!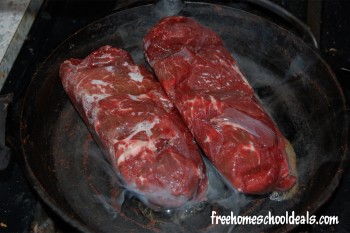 First, you need to sear the meat.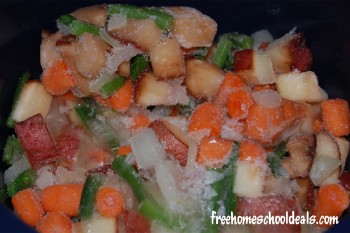 Next, dice all your veggies (onion, carrots, potatoes, green beans and celery) and put into slow cooker. NOTE: Mine are frozen in this picture, because we usually dice the entire bag of carrots, potatoes, green beans and bunch of celery at once. We put half in the recipe and the other half in the freezer for an easy meal next time!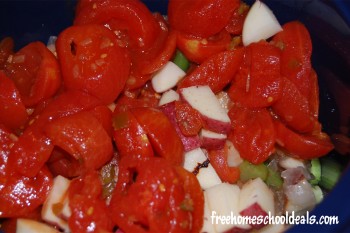 Add the stewed tomatoes on top of your veggies.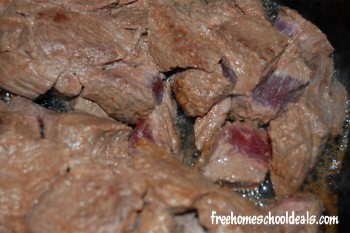 By this point, your meat should be nearly done. Make sure you sear every piece and leave no pink showing. Searing the meat ahead of time, gives it a more grilled taste and it really helps to lock in the flavors.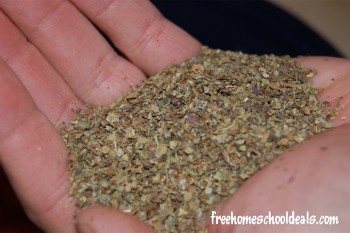 Next, pour a palm full of marjoram (literally) on top of the veggies and stewed tomatoes.
Then, add the garlic. It may seem like a lot of garlic, but it will keep the vampires away. No, seriously though it mellows from the long cooking time and it will make your hose smell amazing!! TRUTH: The Hubster loves his garlic. The more, the better is his motto.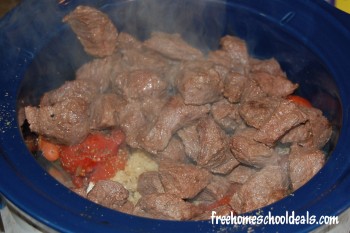 Now, your meat should be completely seared by this point, so put it on top of your veggies. I typically use tongs to move the meat from the pan to the slow cooker.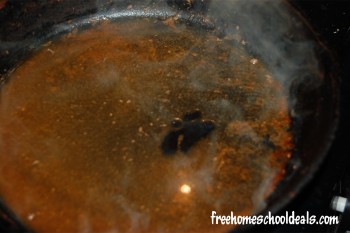 But, don't pour out the juices from the pan. You'll need to save that for our next step.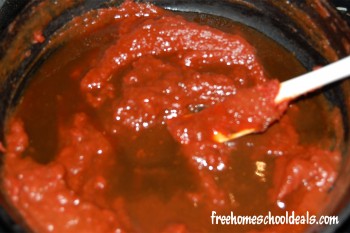 Pour the can of tomato paste in the pan with the meat juices. Stir until combined. It will still be thick, but that's okay. (Sorry for the blurry pic, but it's the only one I got of this step. Silly me!)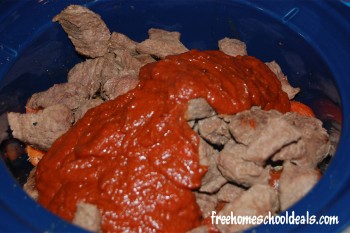 Pour the tomato paste, meat juice mixture over the top of the meat and veggies.
Pour a splash of chicken broth in the slow cooker. I like to make my own chicken broth and save it for times such as this, but store bought chicken broth will most definitely work too!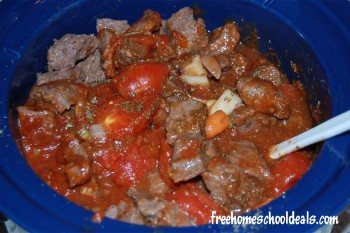 You can stir it a little if you like, but it's really not necessary.
Cook on low for 8 hours. DO NOT cook on high or the meat will get too tough.
Now, walk away and soon it will look like this and the wonderful aroma of garlic and beef will fill the house!! Ahhhh…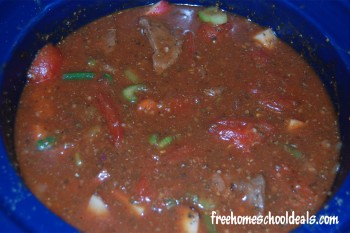 Ladle it into a bowl and serve HOT!!!! You can serve it with crackers or by itself. It is quite filling, especially with all those veggies!!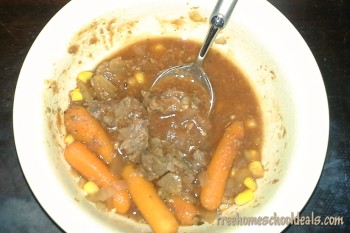 NOTE: You can add any combination of veggies to this recipe you like. Sometimes we add corn to ours (as in the picture above)
So, that's it!! A little bit of prep work in the morning (or night before) and you've got yourself an EASY-PEASY, SUPER YUMMY dinner option!!
What's your favorite Slow Cooker soup or stew recipe?
Blessings,
Annette

The following two tabs change content below.
We are here to help families afford the homeschool life by providing the BEST homeschool freebies, deals, resources we can find & encouragement as we walk this journey together!
Latest posts by Free Homeschool Deals (see all)