Have fun and enjoy using this wonderful free to print sleepy snail themed coloring page perfect for kids of multiple ages and grade levels to be able to do in their free time or apart of their school lesson plans.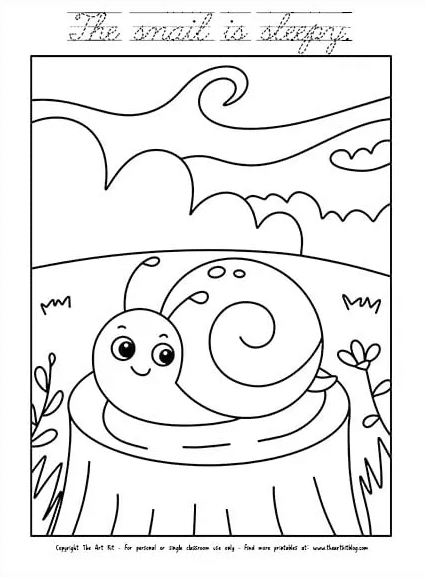 Kids of all ages, and even adults too, can find enjoyment in doing coloring pages. There's educational benefits for younger kids and relaxing benefits for adults to take a break from doing work and get to wind down with some coloring crayons, markers, or pencils to color and decorate this blank coloring page into however you want it to look like.
For younger students they can benefit from doing coloring pages by practice hand coordination skills holding the coloring utensils, challenging themselves to stay inside of the lines, and this particular page has a dotted cursive sentence at the top for kids to practice tracing.
You can use any of your most favorite colored crayons, markers, or colored pencils, or whatever else it is that you have and may prefer using to be able to have fun coloring and decorating this sleepy snail coloring page for kids.
Coloring pages are great to use in free time, during school, on long car rides, or anywhere else at any time that works best for you however you see fit.
Check out these links below for more free printable coloring pages.
The following two tabs change content below.
Latest posts by Isa Fernandez (see all)