Add these free to print skin labeling worksheets to your science study lesson plans to make learning more fun and easy for your kids learning in school this year.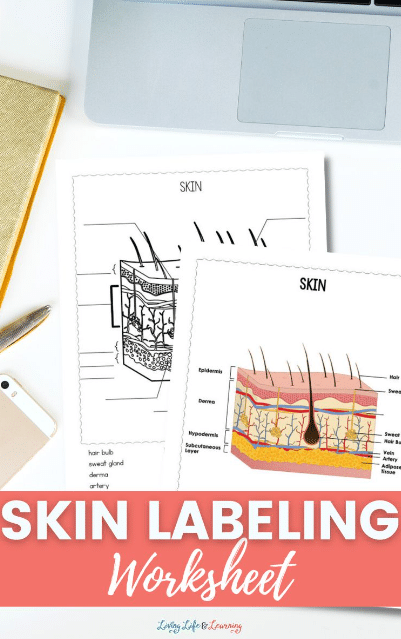 As your students spend time staring at, coloring, and labeling this skin worksheet they'll be more likely to remember and memorize what they are studying, the terminology and which part of the skin it is.
Get together all of your most favorite colored crayons, markers, colored pencils and whatever else it is that you and your students like and prefer to use for coloring and decorating education coloring pages at home or in school. Whether you want to let your kids pick out fun crazy colors to use or if you want them to use close to realistic colors in their correct places is completely up to you! You decide how you want to get use out of this totally fun and free to print skin labeling worksheet.
Learn all about the integumentary system and how the skin is the largest organ our body has and what its exact purpose is. This very descriptive skin labeling worksheet gives your kids very detailed spaces to learn, color, and label with a word bank to have to pick and choose vocabulary from which can be helpful for students as well.
Check out these links below for more free printable science worksheets.
The following two tabs change content below.
Latest posts by Isa Fernandez (see all)