This post is from contributor, Tricia Goyer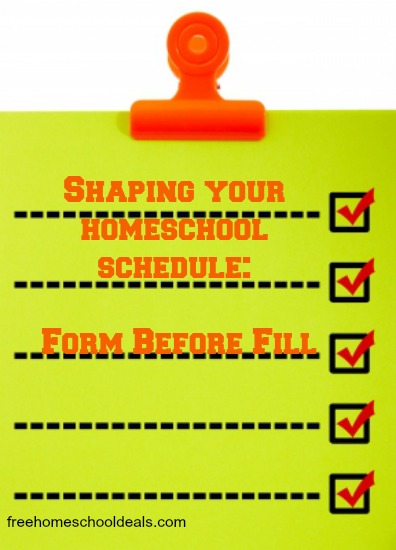 I've been a homeschooling mom for almost twenty years, and for so many of those years I filled our lives with too much.
Thankfully there was a moment when I stepped back, took a good look, firmed up what I wanted to achieve in our homeschool, and then filled our schedule from there.
Want to know where I got that idea? Genesis 1.
We are made in the image of God. As homeschooling moms, we shape, form, and create our homeschooling world. In order to succeed we have to ask the right question. Not, "What do I need to do?" Rather, "How did God do it?" In the Creation story, God's wisdom is displayed.
First God formed. Then He filled!
In the first three days, God "formed." He established supportive systems necessary for life and man's existence. He created the heavens and the earth. He separated the waters from the land. He made the stars and sun. He built the framework that would sustain His creation.
The second three days, God filled. He filled His created world with plants, flowers, animals, and man.
Formed:
Day One = Light, formed heavens and earth
Filled:
Day Four = Filled with sun, moon, and stars
Formed:
Day Two = Separated water and sky
Filled:
Day Five = Filled with fish and birds
Formed:
Day Three = Formed land and vegetation
Filled:
Day Six = Filled with animals and man
The problem comes in our homeschooling when we FILL our school days before we build structure around our schedules, our work, and our relationships. We make decisions out of emotions or desires without contemplating how they will impact us.
Nothing good ever happens by accident. If you want something good to happen, put some structure around it.
Here are some good FORMING questions to ask:
Why do I homeschool?
Ten years from now, what would I consider a "success"?
What values do I want my children to have when they complete their schooling?
What would a great homeschooling day look like?
Here are some FILLING questions:
What am I doing that will help me achieve my homeschool dreams?
What activities are benefiting my dreams?
What activities are hindering my dreams?
Where do I need help? How can I fill this need?
What works in my schedule?
What do I need to cut?
What do I need to add?
The forming isn't something you can firm up overnight, and the filling will flow with the seasons. Yet I urge you to consider these questions.
Looking back, I'm so glad I took the time to gaze ahead and make plans for our homeschooling journey. I've graduated three kids with three more to go.
With God's help, success can be found!
Image courtesy of Stuart Miles / FreeDigitalPhotos.net
The following two tabs change content below.
Tricia Goyer
is a busy mom of six, grandmother of one, and wife to John. Somewhere around the hustle and bustle of family life, she manages to find the time to write fictional tales delighting and entertaining readers and non-fiction titles offering encouragement and hope. A bestselling author, Tricia has published thirty-three books to date and has written more than 500 articles. She is a two time Carol Award winner, as well as a Christy and ECPA Award Nominee. In 2010, she was selected as one of the Top 20 Moms to Follow on Twitter by SheKnows.com. Tricia is also on the blogging team at MomLifeToday.com, TheBetterMom.com and other homeschooling and Christian sites. In addition to her roles as mom, wife and author, Tricia volunteers around her community and mentors teen moms. She is the founder of Hope Pregnancy Ministries in Northwestern Montana, and she currently leads a Teen MOPS Group in Little Rock, AR. Tricia, along with a group of friends, recently launched 
www.NotQuiteAmishLiving.com
, sharing ideas about simplifying life. She also hosts the weekly radio podcast, Living Inspired. Learn more about Tricia at 
www.triciagoyer.com
.
Latest posts by Tricia Goyer (see all)