Lots of kids now a days aren't learning about Roman numerals anymore. Help teach your kids how to learn, count, and recognize Roman numerals with these helpful free printable worksheets.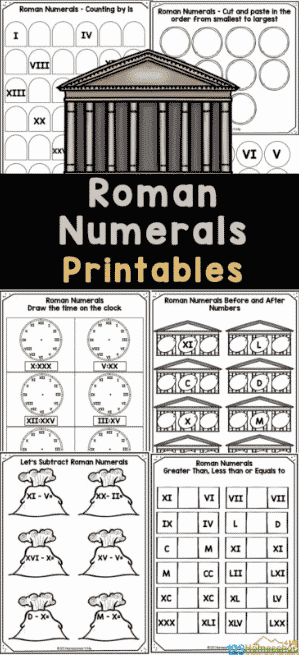 Roman numerals aren't very hard to learn and with the help of these free printable worksheets it's even easier now than ever before to help teach your kids Roman numerals.
This is a great free printable pack to be able to add to your current math study lesson plans either teaching your kids one on one at home or in a school room setting full of students who are all learning at the same time.
There are sixteen different pages included with this fun, helpful, and free printable pack of Roman numerals worksheets to teach your elementary aged students. Have fun learning with a Roman numeral poster, counting by ones, tens, and the hundreds, matching Roman numeral activities, and cutting and pasting activities.
Your kids will begin to have so much fun while they get to learn about Roman numerals. With this free printable pack they will build stronger recognition skills for Roman numerals by adding Roman numerals to the correct places on a blank clock template, adding and subtracting with Roman numerals, practicing greater than and less than with Roman numerals, and much more!
Check out these links below for more free printable math worksheets.
CLICK HERE for hundreds of free homeschool printables
Be sure to follow the Free Homeschool Printables and Worksheets board on Pinterest!
The following two tabs change content below.
Latest posts by Isa Fernandez (see all)