Use this free printable Roman numerals booklet to help teach your kids in early elementary how to read and count Roman numerals easier.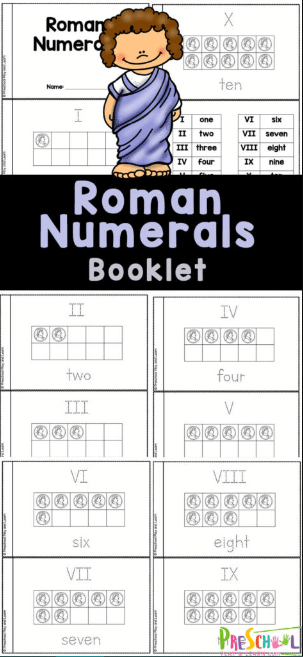 It's important to teach kids how to read and understand Roman numerals. I feel like it is not as commonly taught as it used to in other times but Roman numerals still exist and it takes nothing to teach it to your kids.
With the help of this free printable booklet for teaching Roman numerals it's easier now than ever before to be able to teach your kids and help them understand Roman numerals.
You can easily download and print out this fun and free printable Roman numerals booklet to cut out the pages and turn into a book to add to your current math study lessons for teaching your kids either from being in the comfort of your own home or for teaching a classroom full of kids at school who are all learning at the same time.
Learn Roman numerals in this free printable booklet by looking at the Roman numeral examples next to numbers that are spelled out, or by counting pictures of coins how many there are by the Roman numeral answer.
Check out these links below for more free printable learning numbers worksheets.
The following two tabs change content below.
Latest posts by Isa Fernandez (see all)