These awesome reindeer life cycle activity worksheets are great for kids to practice a ton of skills and learn a lot about reindeers as well.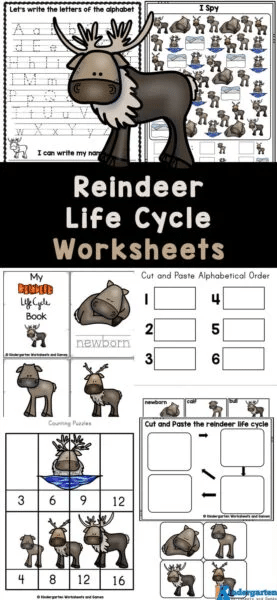 These reindeer life cycle worksheets are a ton of fun and great for kids to learn about reindeer all while working on many skill they are learning in their early years. This printable pack comes with many different activities including timeline pages, cut and paste pages, and letter tracing worksheets for kids to complete.
You can mix in the fun activities with the worksheets for a great balance of fun and work. These worksheets will build upon important skills kids are learning such as the letter tracing page which will work on their penmanship and alphabet.
Kids will also be able to put together timelines of the reindeer life cycles. This is important for kids to recognize patterns and be able to put them in order chronologically. There is also the I-Spy page as well for kids to work on their visual detection skills. These are also a ton of fun to complete.
You can have these pages ready for your kids to work on today. Using the link down below, you can download the file and print these pages out. Your students will have a ton of fun and be able to build on so many skills with this free reindeer life cycle worksheet printable pack.
Check out these links for more free printable packs.
The following two tabs change content below.
Latest posts by Isa Fernandez (see all)