Check out these totally awesome and easy, fun, and free printable rain themed alphabet coloring activity pages for your younger kids in preschool to be able to enjoy.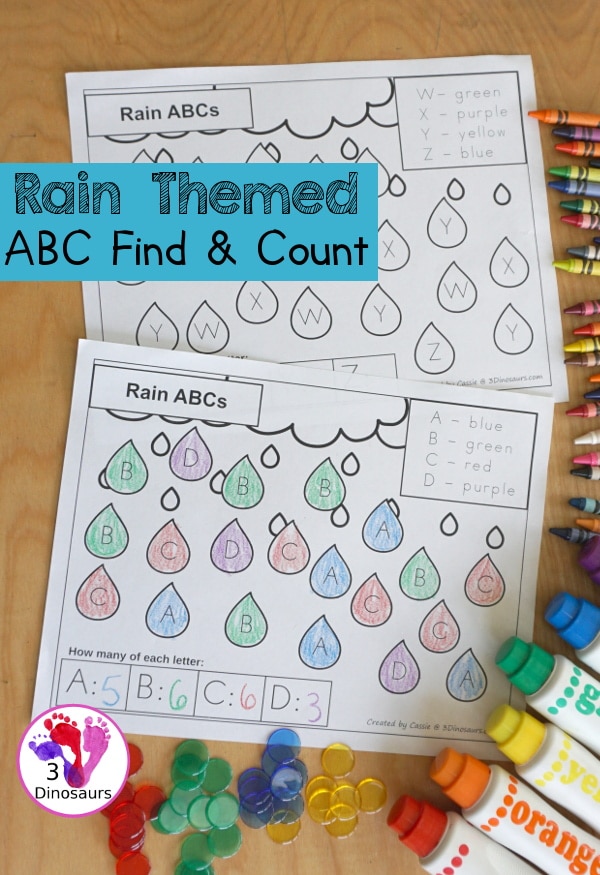 You can use this awesome and helpful free printable rain drop themed alphabet coloring page to help your kids become more familiar with the different letters of the alphabet. and they get to count them too which helps with practicing their math skills.
There are six different colors that are used with this fun and free printable rain drop themed alphabet activity coloring page. Go ahead and pick out purple, red, yellow, green, and blue colored crayons, markers, and colored pencils to follow the directions on the page and color the correct things.
At the bottom of each page are four different letters. The worksheet will ask you to count how many letters that your kids can find and count on the raindrops. Then your kids can write down the numbers for how many of that letter that they counted.
After counting the number of times you can find each letter, you get to color each letter a specific color according to the instructions on the page.
This is an excellent fun and free printable learning exercise for your younger students in preschool to be able to enjoy doing from their home or in a classroom at school.
Check out these links below for more free printable coloring pages.
The following two tabs change content below.
Latest posts by Isa Fernandez (see all)