Use this super easy to use and free to print Rachel Carson unit study for helping teach your kids and add to your current history study lesson plans in school this year.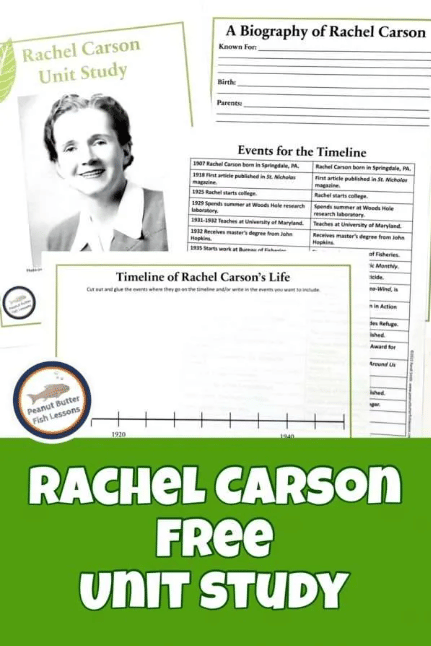 This is a fun and interesting unit study about a woman from the 1950's and 60's that's totally easy to use and free to print for you which can't get any more perfect than that.
You can easily add this Rachel Carson free unit study to any kind of current history curriculum that you may already be using for your kids in school this year.
This is a great free to print unit study to use for learning about important women in history. This free printable pack comes with reading material and note booking material for kids of multiple ages to be able to do and learn together which makes it perfect for teaching multiple kids of different grade levels together whether it's a co-op class or you're teaching your own kids from the comfort of being in your own home together.
Make learning easy and fun for your kids by using this excellent Rachel Carson themed history unit study. This learning activity is great for practicing writing timelines and learning people's biographies which can be fun for kids so they can enjoy what they are doing while they are learning at the same time.
Check out these links below for more free to print history activities.
The following two tabs change content below.
Latest posts by Isa Fernandez (see all)