Students will love all the many different types of colorful pumpkin activities included with this free printable pack perfect for young kids of all ages.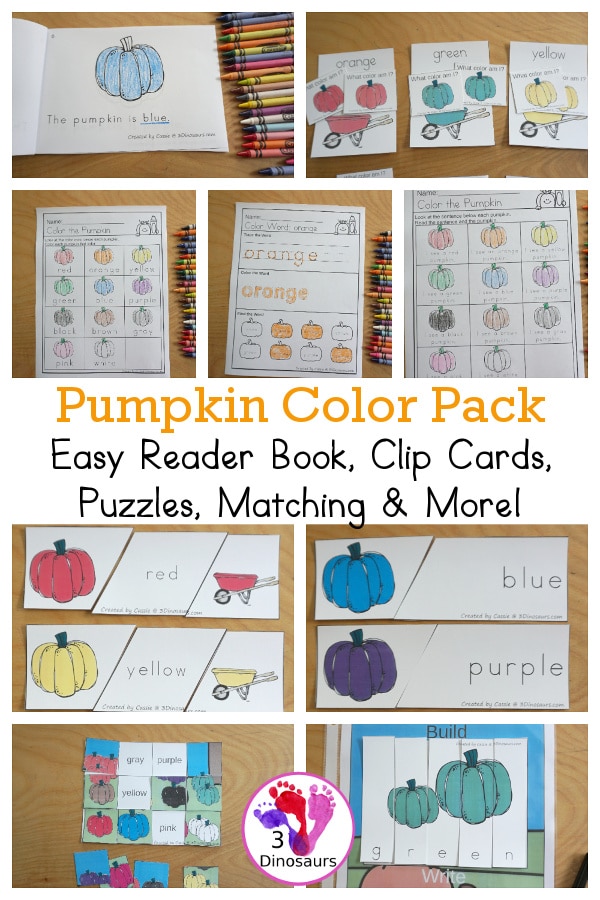 Kids will have fun while learning with these fun pumpkin themed printable activities. This free printable pack comes with an easy reader book, clip cards, puzzles, matching games and more.
Learn about all the different colors of the rainbow like red, orange, yellow, green, blue, purple; and also pink, brown, black and white. Read and match the new color words you just learned with these free pages.
Have fun playing by putting together printable colored pumpkin puzzle pieces.
Use clothespins with the printable picture cards to match the name of the color to the color of the pumpkin. It's a great way for your students to practice memorizing words and remember what colors are which.
You can cut out different colored pumpkin decorated bookmarkers to use in your reading books at home.
Twelve of these pages are numbered and supposed to be used to make an easy reader book. You can print out these pages for your kids to color and decorate, when they are finished decorating the pages you can turn them into a book for them to read.
Looking for more coloring activities for free? Check these out!
The following two tabs change content below.
Latest posts by Isa Fernandez (see all)