Your preschoolers are going to be able to have so much fun being able to color by number with these super awesome fun and free printable activity pages made just for them.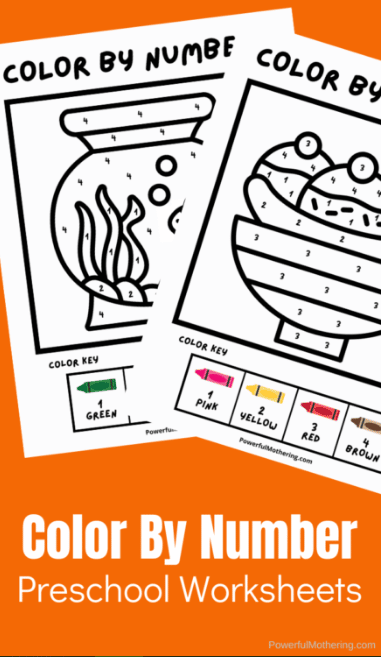 Free printable color by number worksheets are great to be able to use in your school lesson plans this year because it helps teach your little ones to become familiar with and memorize different numbers and colors at the same time. They also are made to follow certain rules like coloring certain parts of the page specific numbers following a code.
Color by number pages are excellent for giving a group of kids to have fun with that are all learning at the same time, whether you're choosing to teach your children from being in the comfort of your own home, or you're using these pages to help teach a classroom full of kids who are all learning at the same time in a school.
There are going to be eight different colors used in these color by number fun and free printable coloring pages including blue, brown, yellow, green, red, purple, pink, and orange. There are also four different images that your kids will be coloring or choose from to color such as a fish bowl, fruit, ice cream, and flowers.
Check out these links below for more free printable color by number pages.
CLICK HERE for hundreds of free homeschool printables
The following two tabs change content below.
Latest posts by Isa Fernandez (see all)