These music themed color by number pages are going to be so great for your kids of multiple ages to be able to enjoy doing anytime that they'd like to.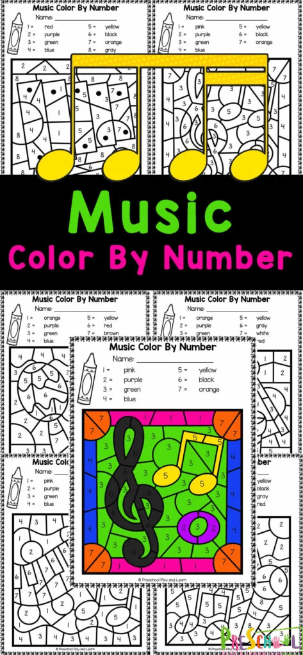 How color by number worksheets work is your kids grab the specific colors mentioned at the top of the pages and then shade each coordinating number on the page with the colors that match like they're supposed to.
Color by number worksheets are fantastic for your kids to practice their number and color recognition skills as well as getting to have fun coloring pages at the same time! It also shows their ability to understand and follow directions that are given to them.
These color by number worksheets are music themed so there are a whole bunch of music notes and other things for your kids to be able to color in and make pictures of.
There are six pages included with this free printable pack of music themed color by number pages, including images of xylophones, karaoke, music notes, keyboard, drum and drum sticks, and more.
These music themed color by number pages are excellent for your students in preschool, kindergarten, and early elementary grades.
Check out these links below for more free printable color by number worksheets.
The following two tabs change content below.
Latest posts by Isa Fernandez (see all)