Your kids of multiple ages and grades are going to love being able to do this pancake themed coloring page wherever they'd like to be able to take it.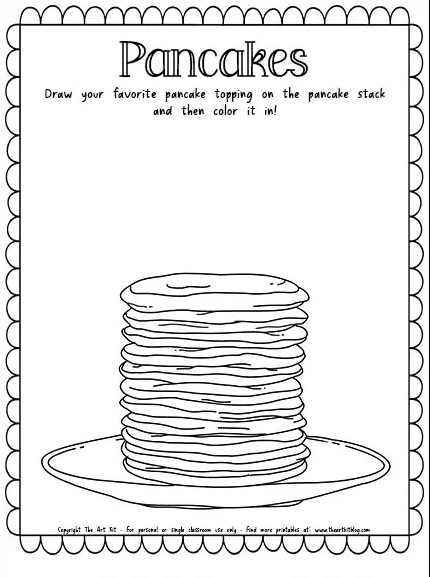 This free printable coloring page is super easy to be able to figure out how to download, print out, and use to give to your kids for fun coloring time.
Coloring pages are excellent for building stronger hand coordination skills, as well as color recognition practice for your younger children.
Have your kids pick out their most favorite colored crayons, markers, colored pencils, and whatever else that they may have to be able to use to color and decorate this awesome, super fun, and free printable pancake themed coloring page.
At the top of the coloring page are instructions for your kids to read or for you to read to them to prompt them to draw, design, and color their favorite pancake toppings on the page. Your kids can get creative b trying to draw different kinds of fruit, syrup, or chocolate chips.
Easily print out this coloring page to be able to give to your kids to do either from being in the comfort of their own home, in classroom setting, or in the car for long road trips.
Check out these links below for more free printable coloring pages.
The following two tabs change content below.
Latest posts by Isa Fernandez (see all)