Kids of all ages and even adults too enjoy doing coloring pages. So check out this free printable tea time coloring page to be able to use today.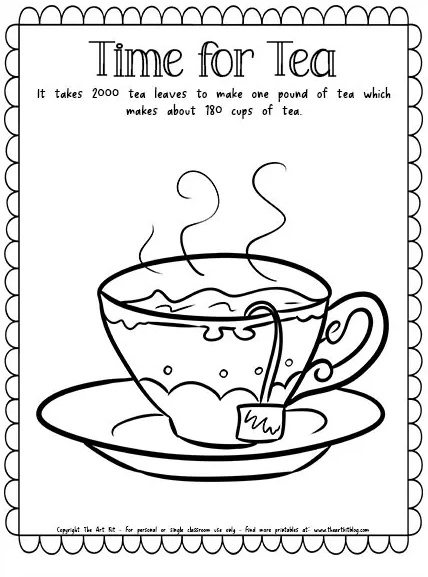 At the top of this fun and free printable tea time coloring page even includes a fun fact for your kids to be able to learn a little more while they get to have fun coloring at the same time.
You can even add this free printable tea time coloring page to be apart of your school lesson plans if you're learning about the country England and how they love their tea over there.
Grab your kid's favorite colored crayons, markers, colored pencils, and whatever else that you can possibly think of that you might have available to be able to color and decorate this tea time themed coloring page with wherever you'd like to be able to do it.
The great thing about coloring pages is that they're easy to enjoy for kids of all ages. You don't have to have a hard time explaining the activity to your kids and they get to enjoy with their siblings, friends, or other students who are learning at the same time.
Check out these links below for more free printable coloring pages.
CLICK HERE for hundreds of free homeschool printables
Be sure to follow the Free Homeschool Printables and Worksheets board on Pinterest.
The following two tabs change content below.
Latest posts by Isa Fernandez (see all)