Practice learning how to read, write, and spell using these super helpful, fun, and free to print -og themed word learning activity worksheets perfect for your students in early elementary grades.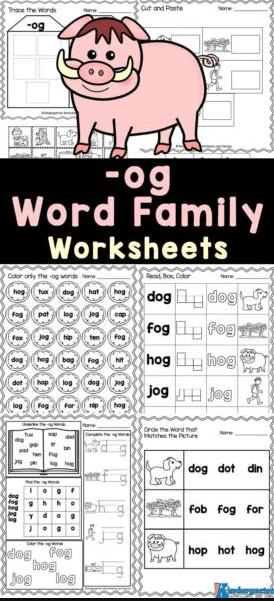 There are plenty of super fun, helpful, and free to print reading and spelling learning activity worksheet pages included with this free to print pack of -og words.
Make learning how to read and spell certain words more fun and easier than ever before with the help of using these super awesome free to print learning worksheet pages that are really fun and interactive with your students.
Whether you're learning and teaching from home or you're in charge of a larger classroom full of students in a school somewhere, you'll find these -og word learning activity pages super helpful and fun for your children at the same time.
Easily incorporate these worksheet pages in with any kind of current study lesson plans you may already have for your students in preschool through early elementary grades just to use along with your current curriculum as extra practice or for review purposes.
Included with this fun and free to print pack of reading and spelling learning activity pages are -og ending words such as dog, frog, hog, log, and jog just to name a few for example. Most of these words are going to be simple three letter words which makes learning and teaching them super easy.
Check out these links below for more free printable spelling activities.
The following two tabs change content below.
Latest posts by Isa Fernandez (see all)