Help your kindergartners with their spelling with the help of these awesome, free to print, and easy to use spelling worksheets perfect for kindergarten grade and ages whether you're learning from home or teaching in a class.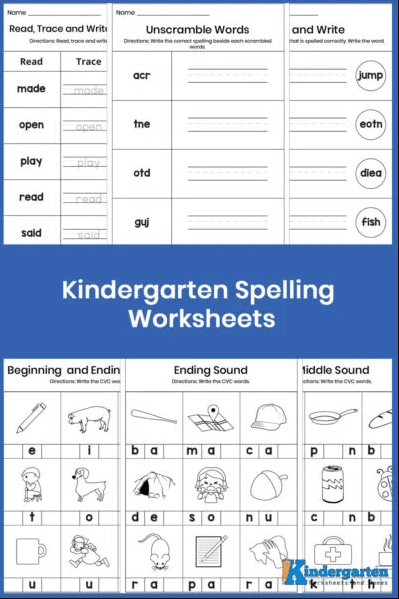 Check out this super awesome, fun to do, easy to use, and totally free to print pack of spelling worksheet pages perfect for your students in kindergarten this year.
Make learning fun and have some help learning and teaching your younger students how to spell with these great spelling worksheet pages that are completely free to download and print.
Included with this free to print kindergarten spelling worksheet are word unscramble activities, tracing practice to help build strong hand coordination and penmanship, filling in blanks with beginning and ending sounds, and more activities to make learning how to spell fun instead of challenging and difficult.
Your students in kindergarten are going to love and have so much fun doing these spelling worksheet pages. You can take a look at the many different types of worksheets and even pick and choose which ones you'd like to use or not. You don't lose anything from picking and choosing and possibly not even using all of the worksheets that come with this pack because it's totally free to print.
Check out these links below for more free printable spelling learning activities.
The following two tabs change content below.
Latest posts by Isa Fernandez (see all)