Make learning fun and easy for your children with the help of these excellent number worksheets that go over numbers one through twenty specifically.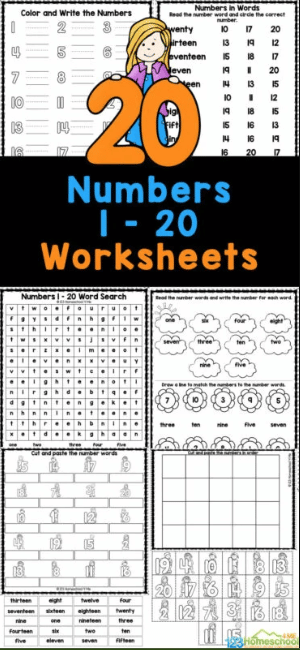 There are plenty of different types of easy and fun learning activities included with this free to print and easy to download number worksheets that go through numbers one through twenty for your students to use for practicing, learning, and reviewing purposes.
These worksheets work perfectly along with any current type of math curriculum that you might already be using for your kid's school this year for preschool, pre-k, and kindergarten.
Whether you're choosing to independently teach your own kids privately from while being in the comfort of your own home, or even if you're a teacher in charge of teaching a larger classroom full of kids who are all learning at the same time in a school building together, these free to print number practice learning worksheets are perfect for any and all occasions imaginable.
Extra worksheets that are free to print are always super helpful for that little extra practice for your students to have to take advantage of there's really no reason why you shouldn't check out these easy to use and free to print number worksheets.
Check out these links below for more free printable math worksheets.
The following two tabs change content below.
Latest posts by Isa Fernandez (see all)