Your students are going to be able to have so much fun while getting to color and learn at the same time with this free Wolfgang Amadeus Mozart coloring page to add to your study lesson plans in school.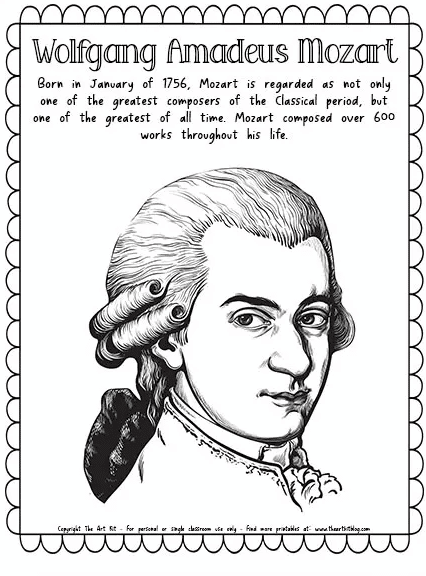 Whether you are simply looking for free printable coloring pages to give to your kids to enjoy for play time or to use in school, or if you want to add this Wolfgang Amadeus Mozart coloring page to be apart of your current study lesson plans on classic music composers, this is a great coloring page free printable for you.
Kids love having fun while using coloring pages, so why not make it easy by downloading this free to print coloring page that can also be used for teaching your kids too.
Make learning fun with this wonderful free printable Wolfgang Amadeus Mozart coloring page that also includes a fun fact to read to your kids to teach them about Mozart too.
This is a great fun and free printable to be able to add to a classic music composer artist unit study lesson plan that you may already have in place for your students to do this year in school.
Check out these links below for more free printable coloring pages for your kids.
The following two tabs change content below.
Latest posts by Isa Fernandez (see all)