Your kids are going to be able to have so much fun getting to color and decorate this free printable lizard coloring page.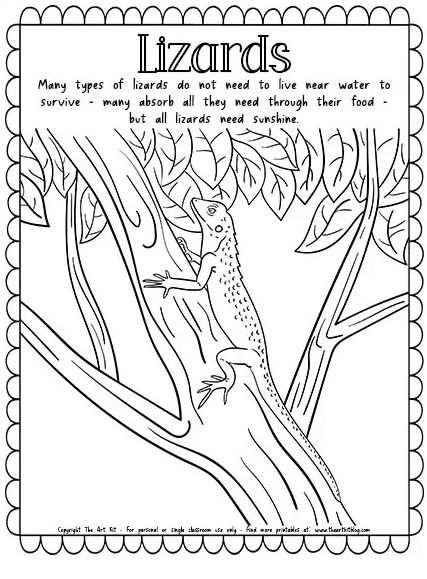 Make sure to have all of your children's favorite colored crayons, markers, colored pencils, and whatever else that they have and like to use out for them to be able to color and decorate this wonderful, fun, and free printable lizard themed coloring page.
This coloring page is an excellent activity to be able to give to your kids to do for enjoying while possibly getting to take a break from doing their school work.
While having fun getting to color the lizard coloring page, your students will also be able to learn a little bit with the fun fact about lizards included on the coloring page for them to be able to read or for you to read to them.
This is a great free printable coloring activity to be able to give to your kids to do at home that requires little to no preparation and leaves no mess, it also works fantastically in a classroom setting.
Kids of all ages enjoy doing coloring pages, even adults too can like doing coloring pages just for relaxing downtime.
Check out these links below for more free printable coloring pages.
CLICK HERE for hundreds of free homeschool printables
Be sure to follow the Free Homeschool Printables and Worksheets board on Pinterest.
The following two tabs change content below.
Latest posts by Isa Fernandez (see all)