These free to print marshmallow themed sight words pack of worksheets is the most excellent thing you could add to your current study lesson plans in school for your kids this year.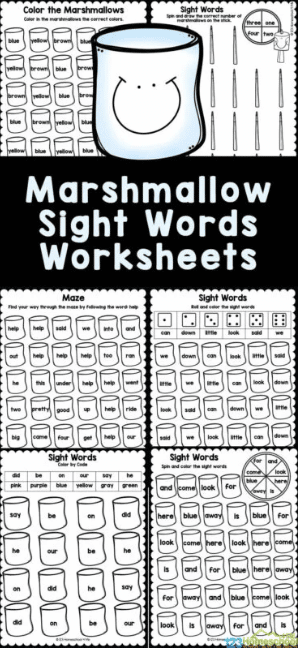 Learning, knowing, and reviewing sight words can really help your students who are just beginning to learn and want to know how to read everything on a day to day basis.
Sight words are basically words that kids can read easily without having to sound anything out. Sight words are also kind of like filler words that we tend to use a lot so it's a great feeling and encouraging for kids who are beginning to learn how to read when they can see and understand the sight words in sentences.
Sight words are an easy concept to teach children and can only help them while they are learning how to read. This free printable pack of marshmallow themed sight word worksheets include fun learning activities such as color by code, rolling and coloring, a maze, and more for your kids to have fun while learning at the same time!
This whole pack of marshmallow themed sight word worksheets prints out in black and white which helps save money on ink and at the same time provides your children with the excellent opportunity to have fun coloring and decorating these pages after solving the problems with their favorite colored crayons, markers, or colored pencils.
Check out these links below for more free printable sight word worksheets.
The following two tabs change content below.
Latest posts by Isa Fernandez (see all)