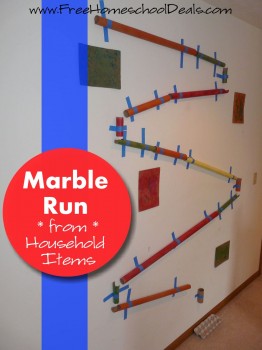 Who needs to spend a lot of money on a marble track?  Not us!  Because today, we are building a marble run that will not only thrill and engage your kids, but all the items needed are likely to be found right in your home.
Much to my husband's dismay, I am a saver.  I save anything and everything I think could be used for some genius, creative project.  For the last year, I have been saving my wrapping paper rolls . . . and at last, I have something to show for it.  And I have to tell you, it created hours of fun for my family.
The beauty of this DIY project is that it involves arts and crafts, design and construction, science and math . . . all under the guise of FUN!
You Will Need:
Wrapping Paper Rolls (Toilet Paper and Paper Towel Rolls will also work great)
Marbles
Painter's Tape
Scissors
Crayons, Makers and/or Paint
Egg Carton
Optional:  Timer and anything else to decorate the wall or your marble race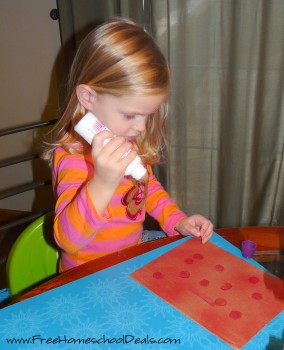 Arts & Crafts
Color and decorate your rolls.  Let your kids use crayons, markers or paint to add some color to your brown rolls.  You can add stickers, glue gems or whatever you have on hand to add some pizzazz to your Marble Run.
I wanted a lot of color, so I spray painted the wrapping paper rolls first.  The kids colored smaller rolls and the cardboard squares that had come with a recent Amazon shipment.  My kids love the 
Do-A-Dot Art Set
, so we used those on the squares for wall decoration.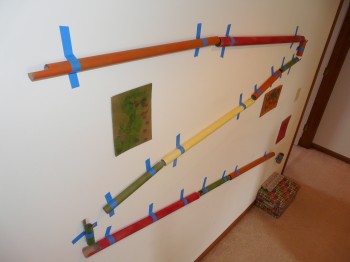 Design & Construction
Build your marble run!  Cut your tubes into various lengths (you can do this as you go) and prepare pieces of tape.  Place your egg carton where you would like the track to end.  Start at the bottom and work your way up.  You will want to make sure that each "leg" of the run works before taping it to the wall.
When you are changing directions, we found it easiest to slit the top of the roll and remove one side.  This will help your marble stay on track.  There were also times that we removed a section of the top of a tube.  See the collage picture below.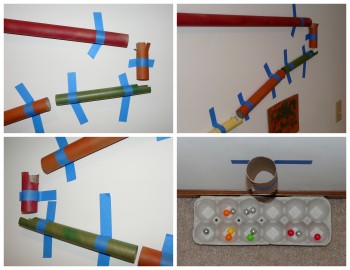 Science
Your marble race can take you right in to a discussion of science.  Talk about gravity and how the angle of a tube affects the speed of the marble.  Notice how the marble will fly out of the tube at different trajectories depending on how sloped the tube is.  Do you have a high school student?  Go deeper in the physics and talk about Newton's Law of Motion and kinetic energy.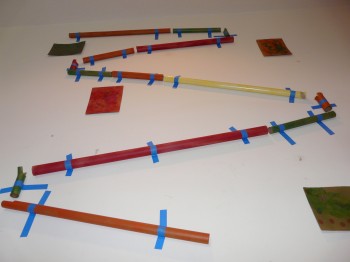 Math
Want to take it a step further?  Try timing how long each marble takes to run the race.  Ask your kids how long it would take to send three marbles through, one at a time.  How many marbles could go through in the course of three minutes?  Every marble won't stay on track perfectly.  Determine the percentage of successful runs from a batch of 10 marbles.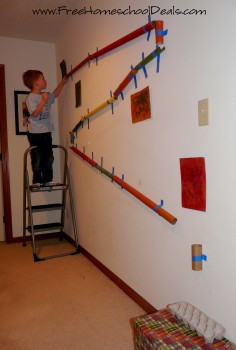 A Little Friendly Competition
Have each of your kids create a smaller marble run and race to the same finish.
Things I Would Tell My Best Friend
If you decide to spray paint the rolls in advance like I did, know that super cheap red spray paint does rub off on white walls.  (Good thing I chose a wall that still needs to be painted.)
Be sure to follow the tape instructions on how long the tape can remain on the wall without causing damage to the dry wall.  Remove the tape with care.
Now,  Ready – Set – Go!
Can't see the video?  Go here.
Would you like to see some of our other cardboard projects?  Check out our DIY Project for Your Train-Loving, Car-Racing Kid, the Village of Cardboard Houses or our 2-D Cardboard Fun.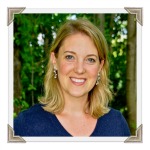 Kristen is a fun-loving mom to two kids who keep her busy and laughing. Add her great husband and the Lord to the mix and her life is one fantastic, crazy adventure. She is a former youth leader, professional wedding and event planner and has a degree in Christian Thought/Christian Ministry. She loves long lists, diet soda and playing jokes on her husband. Kristen is the author of Teach Me To Serve: 99 Ways Preschoolers Can Learn to Serve & Bless Others. You can find her blogging at Celebrate Every Day With Me where she shares fun ideas for children's activities, creating memorable moments and party planning. Stop by and celebrate the 'everyday stuff' of life. You can also connect with her on Facebook, Twitter and Pinterest.
The following two tabs change content below.
We are here to help families afford the homeschool life by providing the BEST homeschool freebies, deals, resources we can find & encouragement as we walk this journey together!
Latest posts by Free Homeschool Deals (see all)