Make learning fun and enjoyable for your preschoolers learning and going through the letters of the alphabet with these fun and free to print letter V worksheet activity pages.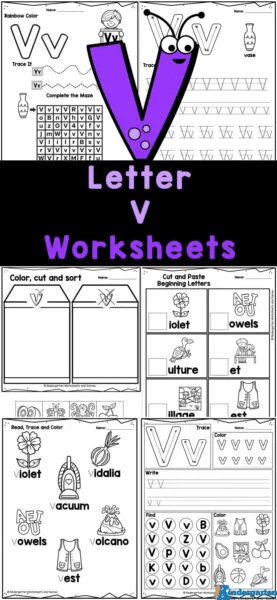 Included with this pack of super fun and free to print letter V learning activity worksheets are a total of twenty pages for kids to easily be able to use along with the rest of their school study lesson plans this year.
Kids together as a group in a classroom can enjoy these letter V learning activity pages at school or in a homeschool co-op. They're completely free to download and print out for you to be able to use in any occasion need be.
Get together all of your student's most favorite colored crayons, markers, colored pencils, or whatever else that they enjoy and prefer using to have even more fun coloring these letter V learning activity pages after completing all of the activities available and following coloring directions. There are plenty of black and white page opportunities for kids to be able to have fun filling in.
There are also cut and paste activities included if you're at a place where you trust your younger students with their verry own pair of safety scissors, otherwise there's no reason why you can't pre-cut out the activity and give to your kids for them to paste it themselves.
Check out these links for more free printable letter learning pages.
Find more FREE Homeschool Printables & Worksheets on our Pinterest boards!
The following two tabs change content below.
Latest posts by Isa Fernandez (see all)