These fun and free printable science worksheets are available to you, perfect for your first through fourth graders to use to learn about the layers of the earth.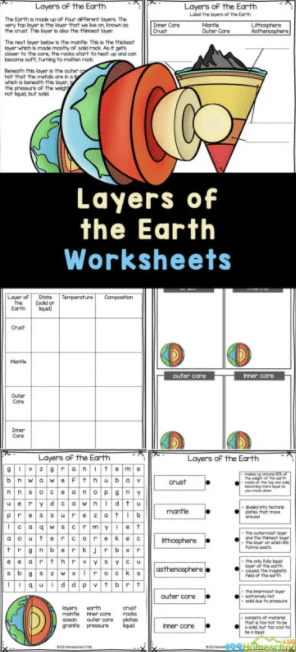 Your elementary aged students are really going to benefit from these awesome free printable worksheets explaining the layers of the earth.
Follow these free printable layers of the earth worksheets to read and learn about the different layers that make up the earth. This free printable pack also comes with a printable answer key for your kids to check their answers to make sure that they are correct.
Use these free printable science worksheets as extra practice, review, or add to your current science lessons study plan. These free printable worksheets work great for studying at home, or you can print them to use in a classroom full of students.
This easy free printable pack includes lots of information pages to read on the layers of the earth, the crust, mantle, inner core, and outer core. There are separate note booking pages included for each of the layers of the earth for your kids to write about.
There are multiple fun activities included in this free printable pack that go along with the layers of the earth theme. Have fun with these crossword puzzles, word searches, and layers of the earth mini flip book.
Check out these links below for more great free science worksheets.
CLICK HERE for hundreds of free homeschool printables
Be sure to follow the Free Homeschool Printables and Worksheets board on Pinterest!
The following two tabs change content below.
Latest posts by Isa Fernandez (see all)