Study and learn all about koala's life cycles and more learning activities with this fun and free to print pack of koala life cycle worksheet pages for kids.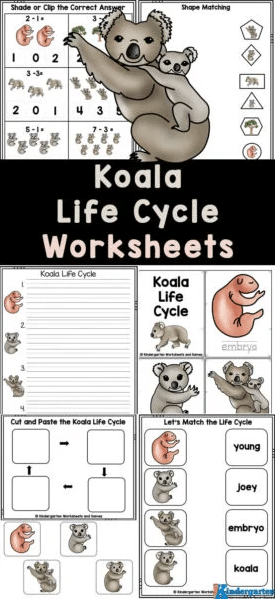 Learn all about the different names for different age stages for koalas, read fun facts, and take down notes for what facts you learn that interest you the most.
These koala life cycle worksheet pages work perfectly for adding to a current unit study on animal life cycles in school or just to have for sharing with your curious students who like learning more about animals in nature.
Perfect for preschool through early elementary grades these koala themed life cycle worksheet pages are great for using at home or in a classroom.
Have fun with tracing practice and cut and paste opportunities for students to strengthen hand coordination skills and following direction.
Along with learning about the interesting life cycle that koalas have, kids can have fun with a multitude of different kinds of activities for learning which is great for adding to study lesson plans in school to use the pages for extra review or practice purposes.
Circle correct number answers, match shapes, and trace the words of stages of the koala life cycle all with this free to print pack of koala life cycle worksheets.
Check out these links below for more free printable life cycle pages.
The following two tabs change content below.
Latest posts by Isa Fernandez (see all)