These free to print subtraction worksheets are great extra help and practice for your students in kindergarten to go over numbers one through ten.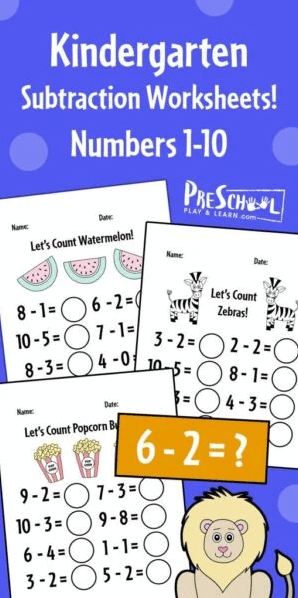 There is definitely no shame when it comes to needing a little more help and practice in school, that is exactly what these subtraction worksheets are perfect for!
Easy to download and free to print these subtraction worksheets for kindergartners with numbers one through ten is the best thing to be able to have to add to your current study lesson plans for your students in school this year.
Make learning easy and fun for your kids with these awesome free to print subtraction worksheets that will help your kids where needed.
Math doesn't come easy to most of us, so any extra help and practice is super useful and can go a long way! There are a ton of fun pictures and themes to these subtraction worksheets that make it fun for your kids to do and look forward to doing.
However you choose to teach your kids these subtraction worksheets work perfectly for teaching your kids from home, or to use in a classroom full of kindergartners who are all learning at the same time at a school.
Check out these links below for more free printable math worksheets.
The following two tabs change content below.
Latest posts by Isa Fernandez (see all)